Daniel Babin Appointed President of Conley Marine Services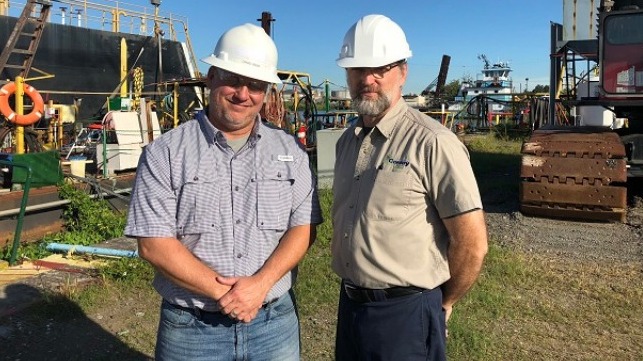 Conley Marine Services has announced Daniel Babin has been appointed President of Conley Marine Services following the completion of its acquisition of Kody Marine, including the Drydock and Maintenance Repair Yard situated on the Harvey Canal in metro-New Orleans.
James Conley, Chairman of Conley Marine Services, lauded both Conley's acquisition and the selection of Babin to lead the company. Conley stated, "After a competitive, exhaustive executive search, there is no doubt Daniel Babin is the preeminent choice because his shared vision, values and experience unquestionably aligned with those of Conley Marine Services."
Babin, a Louisiana native with over two decades in the maritime trade, brings unparalleled insight into in the industry. Having held senior operational posts as well as executive M & R management positions, Babin is uniquely qualified to lead Conley Marine Services.
Babin's prior engagements include, among others, Bollinger, Bisso, Quanta, and Tidewater. Babin's reputation is unrivaled in fleet and shipyard management with expertise in regulatory and marine maintenance processes.
"I'm energized by the direction Conley Marine Services is moving. Conley's reputation as a SubChapter M consultancy has been built on confidence, dependability and honesty.
"Conley's success has allowed its expansion into the marine industry's critical M & R segment. As a key Defense Department vessel maintenance prime contractor, Conley brings a competency unseen in the commercial maritime segment. Conley's growth opportunities are boundless, and I look forward to being part of that effort," Babin said.
Fresh off this recent expansion Mr Conley has been bold about what the future holds under Mr Babin's leadership.
"Conley Marine has become synonymous with growth and success because at Conley we practice our core values. Daniel Babin will help us attain success and have a positive impact on the industry."
"Conley Marine Services is poised to become the premier inland marine M & R provider because of our commitment to assisting marine operators in achieving greater profitability through higher vessel utilization. Conley's core values of safety, quality, and integrity and remain the key to ongoing success."
The products and services herein described in this press release are not endorsed by The Maritime Executive.