Damen Builds LNG Bunker Vessel to Serve the North-East Baltic Sea
A contract between parent company of Eesti Gaas (Estonia's leading energy company), and Damen Shipyards Group has been signed for the construction of the first of a series of short-sea LNG bunker vessels to operate in the Baltic Sea. The LGC 6000 LNG class vessel, scheduled for delivery in September 2020, will accelerate the wider adoption of LNG as a cleaner alternative fuel in the North-east Baltic Sea by providing a mobile and efficient ship-to-ship distribution service for the first time.
The 100-metre vessel will be built at Damen Yichang Shipyard in China and will carry 6,000m³ of LNG in two type-C tanks at -163° C. Efficient bunkering is particularly vital for passenger, RoRo and RoPax vessels where fast turnaround times are essential for providing a good service to their customers. Currently, Eesti Gaas is refuelling the LNG fuelled RoPax vessel Megastar by truck, with eleven required for a single operation. The LGC 6000 LNG will be able to resupply the ferry in a single, efficient and much faster procedure while she is alongside her regular berth, loading and unloading passengers and vehicles. Ports will also be spared the additional traffic generated by moving LNG by road.
Safety is of course of paramount importance and is at the core of the design and build process for both the vessel class and the bunkering procedures. The LGC 6000 LNG is also designed to meet the requirements of ICE class 1A certification and to achieve green ship notation. A dual fuel propulsion system will be used for the management of the Boil-Off Gas (BOG) in combination with a gas burner, and the interior of the vessel will feature high-quality accommodation for her crew.
Eesti Gaas will operate this LNG bunker vessel under a long-term charter from its parent company Infortar AS, which will be the owner of the vessel. Since 2016, Eesti Gaas has expanded its LNG transport and bunkering capacity by entering long-term LNG supply contracts with shipping companies and industrial consumers. Over time, as the adoption of LNG as a marine fuel gains momentum, it is anticipated that additional LGC 6000 LNG vessels will enter operation.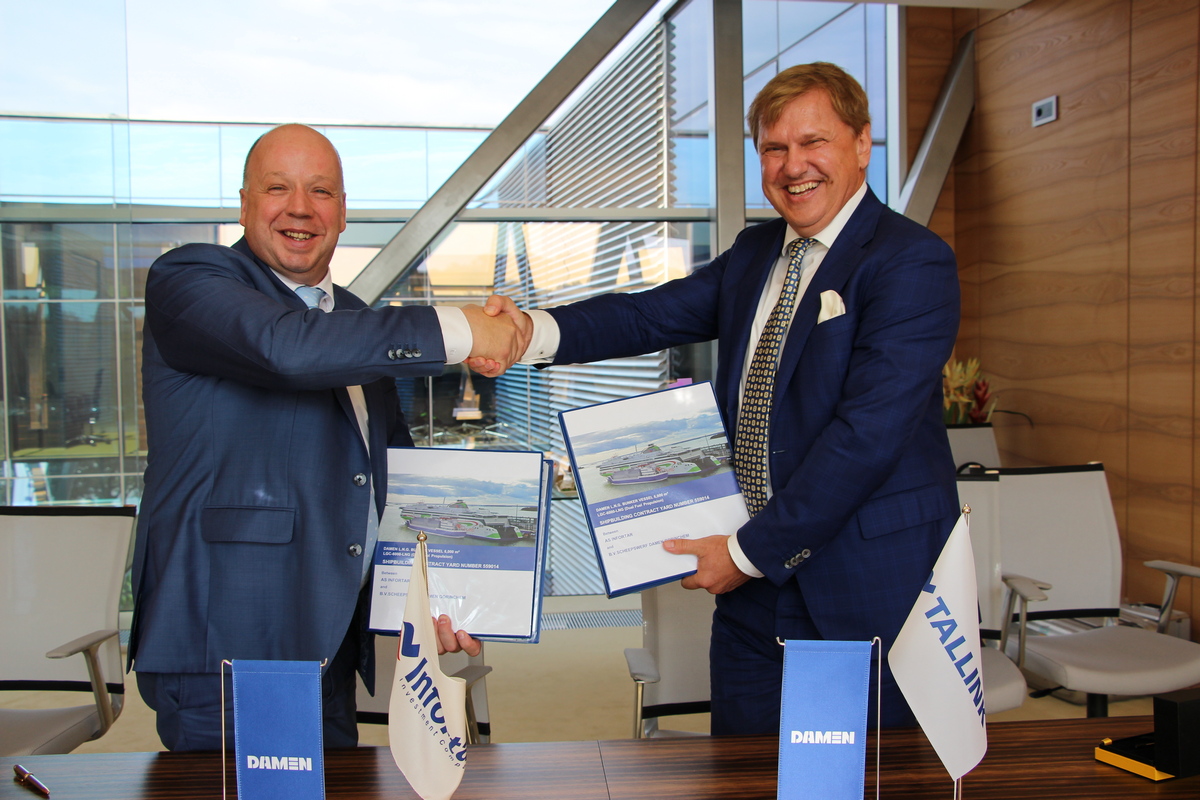 "This new vessel will help us to move significantly closer towards a clean and pollution-free Baltic Sea," said Ain Hanschmidt, Chairman of the Supervisory Board of Eesti Gaas. "With the introduction of the first LGC 6000 LNG scheduled for 2020, vessel operators in the region can now consider adopting LNG propulsion systems in their new and existing vessels, confident that they can access fast and efficient bunkering services. We look forward to it serving an increasing number of vessels using LNG as a marine fuel and thus reducing significantly their CO2, NOx, SOx and particulate matter emissions."
"We at Damen Shipyards are honored with the faith that Eesti Gaas has put in our company by purchasing this LNG bunkering vessel built at our shipyard," added Peter Anssems, Sales Manager for East Europe at Damen. "This will be the first LNG bunkering vessel built by Damen Shipyards Gorinchem B.V. We will ensure that this state-of-the-art ship will be designed and built to the highest standards and that it will contribute to the success of Eesti Gaas, Infortar AS and the Baltic region as a whole."
The products and services herein described in this press release are not endorsed by The Maritime Executive.