CSSC and DNV Unveil Future Ship Joint Innovation Centre in Shanghai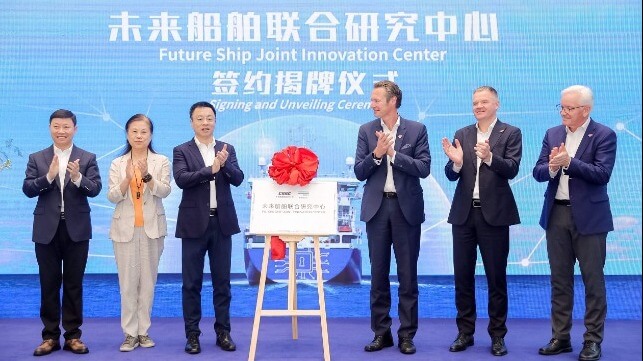 [By: DNV Maritime]
Leading classification society DNV and China State Shipbuilding Corporation (CSSC), the world's leading shipbuilding group, have established a Future Ship Joint Innovation Centre in Shanghai. The Centre will allow both companies to cooperate on ship and offshore field technical innovation, advance in decarbonization and digitalization transformation, and provide technical support and solutions to the maritime industry.
CSSC's Vice President Sheng Jigang and DNV Maritime CEO Knut Ørbeck-Nilssen unveiled the new Centre. At the same time, SDARI's President Lv Zhiyong and DNV's Senior Vice President and Regional Manager Norbert Kray signed the cooperation agreement.
The Centre will be established and operated by SDARI and DNV China following the Strategic Cooperation Agreement Framework signed by CSSC and DNV in 2019. Committing to maritime decarbonization and digitalization transformation, the Centre will set up three joint work groups on decarbonization, digital twin/digital ship, and smart shipping, focusing on developing future-proofed vessel holistic solutions to advance green and smart shipping innovations.
Mr. Sheng Jigang said, "The establishment of this Centre is an important step for a deepened strategic cooperation between CSSC and DNV, China and Europe. Additionally, the mutual trust and advantages gained will pave the way for an in-depth technical exchange between SDARI and DNV China, accelerating research on green and intelligent shipping technology towards global maritime transformation."
"It's my great pleasure to attend this ceremony in person today. I would also like to thank CSSC and SDARI for their support and cooperation in establishing the Centre. It is a key milestone in our bilateral collaboration and will advance the strategic cooperation between our two groups to a new level," said DNV Maritime CEO Knut Ørbeck-Nilssen. "DNV will support the Centre with its full global expertise. Together we will work to ensure it will become a model for the maritime industry's proactive response to decarbonization and digital transformation."
CSSC's Assistant President and Director General of Technology Division Xu Miao, SDARI's Vice President Li Lu, DNV's Senior Vice President and Reginal Strategic Business Development Director James Huang, Vice President and Regional Customer Relations Director Hou Juzhen, Vice President and Head of Technical Centre China Øyvind Pettersen and members from the new Centre and working groups, attended the ceremony.
The products and services herein described in this press release are not endorsed by The Maritime Executive.