Creating a Global Culture of Safety in Shipbreaking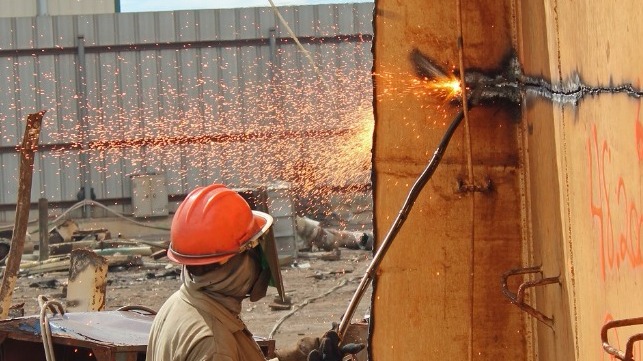 by Chris Green
In 2016, 86 percent of the world's end-of-life vessels were broken up under rudimentary conditions on Asian beaches. To many shipowners, beaching appears to be an inexpensive means of recycling a marine vessel. But in reality, it comes at a steep cost to the environment and human life, with 52 deaths on South Asian shipbreaking beaches reported in 2016, and real figures feared to be much higher.
As a result, the International Labour Organisation has recently named shipbreaking as the most dangerous job in the world, and shipowners and recycling companies are under pressure to take responsibility.
Over the last decade, governments and global organizations have introduced numerous measures to address the health and environmental issues of unregulated shipbreaking. The U.S. Navy responded to criticisms over beaching by banning the export of ships for scrapping in 1997, with the Maritime Administration (MARAD) following suit in 1998.
In 2013, the E.U. introduced the Ship Recycling Regulation to effectively ban shipbreaking on beaches by requiring vessels sailing under a Member State's flag to be recycled at an E.U. approved facility which meets the standards for safe and sustainable recycling. However, there is a major loophole in the legislation - international maritime law enables shipowners to swap their ship's country flag for an alternative country outside the E.U. (often via a quick cash transaction).
On a global level, the Hong Kong International Convention for the Safe and Environmentally Sound Recycling of Ships was introduced in 2009 to ensure ship owners and U.N. member states do not pose a risk to human health, safety and the environment when recycling marine vessels. However, this regulation does not ban the international beaching of ships for dismantling, which is blamed for the majority of shipbreaking accidents and fatalities. Additionally, as the Convention requires 15 member states and 40 percent of world merchant shipping to ratify, it is unlikely to come into force in the near future.
The result is the continued beaching of ships in unregulated waters and facilities, polluting the environment and risking the lives of local workers.
Due to the structural complexity of marine vessels, shipbreaking is a multifaceted process. As well as the risks associated with metal cutting, elevated work and operating heavy machinery, the dismantling process can also expose workers to a number of hazardous materials. These can include asbestos found in gaskets, insulation and valve packing; polychlorinated biphenyls (PCBs) in cables, rubber products and paint; and toxic heavy metals in paint/coatings.
A number of companies across the world operate safe and responsible shipbreaking facilities which minimize worker and environmental exposure to these risks. At EMR, we have invested heavily in our facilities and established quality control procedures and best management practices to ensure that regulatory compliant, environmentally sound methods are followed throughout the ship recycling process.
Employee safety is the number one priority across our shipbreaking sites in Brownsville, Texas; New Orleans and Amelia, Louisiana. Our ultimate aim is to elevate the shipbreaking process so that ship recycling sites are not regarded as poorly regulated scrap yards but places that are safe, efficient and rewarding to work at.
Responsible shipbreaking requires extensive planning and constant safety considerations and, as such, preparation is key. Before submitting a bid to recycle a ship, a lot of work goes into assessing the vessel to create a bespoke recycling plan. This involves close inspection of the vessel, carrying out a series of tests to assess the materials on board and identifying any hazardous elements. Once this research and preparation is complete, the recycling bid is submitted to the government agency or owner of the ship.
If the bid is successful, the next port of call is to carry out further sampling to complete the environmental assessment when the ship arrives at the recycling facility. At this stage, specialists are brought in to conduct a complete safety assessment of the ship, including gas testing and certification of the work areas "Safe for Shipbreaking." Specialist HAZMAT teams wearing appropriate personal protective equipment (PPE) remove hazardous materials, fire hazards and cold cut/break and drain all pipes/equipment containing fuel. Before hot work can commence in any area on board the ship, each section is individually assessed and awarded a permit once declared safe. The ship cutting process can only begin once all the assessments have been carried out and any hazardous substances extracted.
In the U.S., OSHA and EPA standards exist to ensure that shipbreaking operations are completed in a safe and environmentally compliant manner. At EMR, we have built upon these standards to create a strong culture of safety at our ship recycling sites. We maintain comprehensive fire protection measures and have appropriate emergency response, rescue and first-aid service and personnel in place. All of our workers receive extensive training and proper PPE before work can begin on the ship recycling process.
The large proportion of the world's ships being dismantled in an unregulated manner emphasizes the importance of incentivising shipowners to recycle their ships responsibly via an approved facility rather than opting for the low-cost, dangerous and polluting alternative.
There needs to be greater transparency over what happens to a ship at the end of its life and the recycling process. Exploring new ways to encourage shipowners to recycle their ships responsibly will go a long way to preventing ships being broken down on beaches.
Chris Green is Regional Manager at EMR Group.
The products and services herein described in this press release are not endorsed by The Maritime Executive.