CR Ocean Engineering Announces Major U.S. Scrubber Contract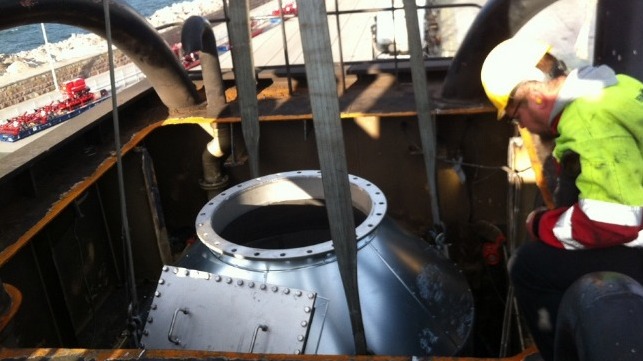 With the award of a major marine scrubber contract for a USA-based shipping company, CR Ocean Engineering, LLC, ("CROE©") continues cruising full speed ahead to a leadership position as a worldwide supplier of exhaust gas scrubber cleaning systems.
This latest award follows a year of investigation and evaluation by our client. Starting with a smaller number of ships several months ago the client has increased the number of ships with the CROE scrubbers to over 35. All Scrubbing Systems will enter commercial operations during 2019 and will be ready for operation when the IMO Global Sulfur Cap goes into full effect worldwide on January 1st, 2020.
CROE Scrubbers are designed to help shippers meet both the 0.1 percent sulfur equivalency requirement in European and North America Emission Control Areas (ECAs) that went into effect on January 2015 and the Global 0.5% sulfur equivalency rules that will be enforced beginning on 1st, January 2020. As with the 0.1 percent sulfur ECAs, the global 0.5 percent requirement will present shipping companies with the choice of using more expensive low sulfur fuel or using alternate technologies such as scrubbing systems.
Allied Shipbroking called Marine Scrubbing Technology, the "fastest and cheapest" way to reduce harmful diesel fuel emissions to meet the stringent International Maritime Association (IMO) compliance requirements for the shipping industry.
CROE has leveraged over 60 years of experience in air pollution control to develop scrubbing systems for the maritime industry. Currently CROE Systems are installed or in the process of being installed on more than 150 ships.
CR Ocean Engineering's ship exhaust gas cleaning technology is available in three standard configurations, customizable to a ship's requirements:
• Open-Loop: once through scrubber using seawater
• Closed-Loop: a recirculating scrubber using freshwater with caustic
• Hybrid: a combination of both designs for maximum flexibility
CROE Scrubbers are in-line and normally replace the silencers.
Due to their small size and compact configuration, CROE Systems, are perfect for both new-builds and retrofits. These can be configured as single stream(controlling emissions from a single engine or boiler) or multi-stream (controlling emissions from multiple engines/boilers combined) configuration.
"We had known this company for several years and over that time we had always looked forward to a day when we could provide our systems to them. Winning this competition was a proud moment for us" said Nick Confuorto, CROE President and COO. "They are an excellent company. We look forward to doing more work with the company as their success continues."
The products and services herein described in this press release are not endorsed by The Maritime Executive.