Corvus ESS Receives Cyber Security Type Approval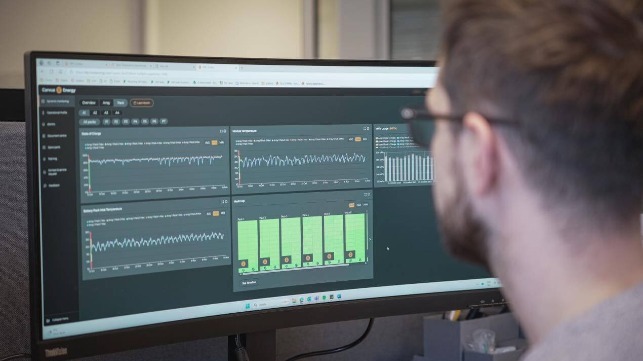 [By: Corvus Energy]
Corvus Energy, the leading provider of Battery Energy Storage Solutions and Fuel Cell Systems for the marine sector, is thrilled to announce that they have been awarded Type Approval from DNV (Det Norske Veritas) for their Cyber Security Notation on the Control and Monitoring system of their Orca Energy Storage System (ESS).
The Type Approval certificate signifies that Corvus Energy's control and monitoring system, along with its data collection through Lighthouse, has successfully met all the stringent safety, quality, and performance requirements related to cyber security, as outlined in DNV rules for classification – Ships Pt.6 Ch.5 Sec.21 Cyber Security, aligned with IACS UR E27. This achievement demonstrates Corvus Energy's commitment to ensuring the utmost security and protection for their energy storage systems and the data they handle.
Data collection and machine learning are key.
Over the last few years, Corvus Energy has transformed its approach to monitoring and data analytics. Collecting data from hundreds of system installations and establishing the Corvus Vessel Information Portal has improved the company's ability to monitor and analyze system performance. This also enables remote monitoring, saving both time and costs for the shipowner. Gathered data are also used to support future product development, determine accurate system sizing, optimize second life and recycling, as well as create new and improved services.
Kolbjørn Berge, Senior Vice President of Regulatory Affairs at Corvus Energy underscores the significance of achieving the DNV Type Approval for Cyber Security. He states, "Data collection and machine learning are key to gaining in-depth operational knowledge and real-time diagnostics of the battery system. Constant monitoring enables us to see that the system is used correctly, and it increases safety significantly as we can detect abnormal values at an early stage and take action before they become critical."
Today Corvus Energy already has more than 100 terabytes of data in the cloud and anticipates this will contribute to new potential business models.
Ahead of schedule
Corvus Energy has achieved this milestone well ahead of the deadline set by the International Association of Classification Societies (IACS) for making cybersecurity rules mandatory for new builds contracted after July 1, 2024.
Looking ahead, Corvus Energy is actively commencing the Type Approvals process to attain Cyber Security Type Approvals for its full product range with DNV, as well as with other Marine Class Societies.
The products and services herein described in this press release are not endorsed by The Maritime Executive.