CMA CGM and VIKING Work Together for Safety Equipment Management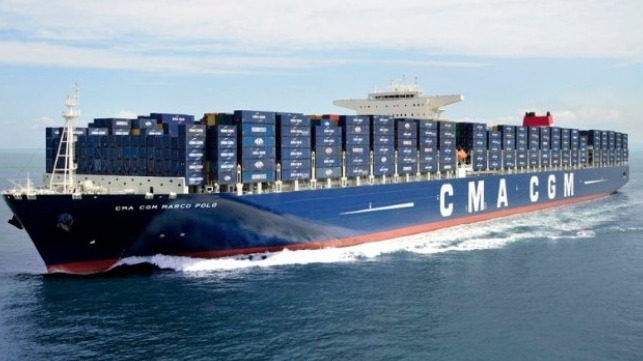 Thinking big
When your fleet has a large number of vessels, including some of the world's biggest container ships, and you operate some 200 shipping routes to visit almost all of the important commercial ports, it's the Big Picture that really counts. Scalability, cost-efficiency, time savings and risk reduction – these are key parameters that help French-based container transportation and shipping giant CMA CGM keep its position in the top rank of a highly competitive industry.

Safety equipment purchase and maintenance receives more attention than its relatively minor position in the overall CMA CGM operations budget might indicate. That's because the company has long emphasized safety, in all its forms, as a crucial factor for commercial success and as part of its corporate values. In fact, CMA CGM has stated that it prioritizes leadership in "safety and security issues," adopting the highest standards and taking a proactive approach as a matter of principle.

Safety first
No effort is too great in achieving and maintaining this leadership position. Under the umbrella of its "Safety First" corporate-wide commitment, CMA CGM's in-house experts analyze and propose strategies and policies for the fleet to prevent accidents, collisions, pollution and other risks. Additionally, well-documented crisis procedures, regular training and infrastructure exist to help vessels cope with emergency situations on board, and all vessels are subjected to a comprehensive audit at least annually.

Managing high levels of emergency preparedness in an efficient, uniform manner is key to any safety strategy for all fleets. And that's precisely why CMA CGM has chosen to place its vessels under the expert care of safety equipment and servicing provider VIKING Life-Saving Equipment.

Shipowner agreement
Today, through the VIKING Shipowner Agreement program, CMA CGM vessels have access to efficient liferaft and personal protective equipment (PPE) exchange and servicing. Ships can, for example, simply swap their onboard immersion suits that are due for servicing at the pier with serviced, packed and approved suits in a single, time-saving transaction. To facilitate mandatory monthly drills, unpacked training units are provided as part of the program.

New equipment such as life-saving appliances (LSA) for new builds and existing vessels are also part of the agreement. Existing vessels are retrofitted with VIKING Nadiro lifeboat hooks and all new CMA CGM lifeboats are specified with this type of gravity-secured hook. CMA CGM sees a lot of advantages entering into fleet-wide service agreements that simplify and streamline safety equipment management and has gradually expanded its contract with VIKING to encompass more and more vessels.
Industry pioneer
Today, CMA CGM is one of over 1,000 shipowners that have adopted the VIKING safety equipment agreement model. And customer satisfaction with these agreements is strong: in fact, seven out of ten shipowners expand their agreements with VIKING during the contract period, and around 95 percent opt for renewal when an agreement expires.

"CMA CGM has helped the industry to steer a new course in safety equipment compliance," says Henrik Uhd Christensen, VIKING's CEO. "Having the company on board as a customer has helped us to develop the Shipowner Agreement offering almost from the outset, ensuring the ideas and features we include in these agreements are a close match for shipowners' evolving needs."
Managing safety equipment as a competitive advantage
CMA CGM' safety equipment strategy aims to:
- Ensure emergency-preparedness across the fleet
- Ensure regulatory compliancy
- Support its zero-detention goal
- Simplify administration
- Ensure cost predictability
- Eliminate out-of-date equipment
- Reduce equipment condemnation rates
The products and services herein described in this press release are not endorsed by The Maritime Executive.