Capital Product Partners Purchases Tanker with Time Charter Attached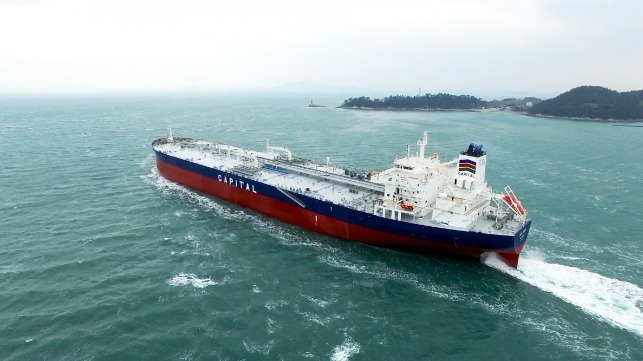 Capital Product Partners L.P. (NASDAQ: CPLP) ("CPLP" or the "Partnership") today announced that its Board of Directors has approved the acquisition of the eco-type crude tanker 'Aristaios' (112,800 dwt, Ice Class 1C, built 2017, Daehan Shipbuilding Co. Ltd., S. Korea) for a total consideration of $52.5 million from the Partnership's sponsor, Capital Maritime & Trading Corp. ('Capital Maritime').
The M/T 'Aristaios' is currently employed under a time charter to Tesoro Far East Maritime Company ('Tesoro') at a gross daily rate of $26,400. The Tesoro charter commenced in January 2017 with duration of five years +/- 45 days. The Partnership intends to fund the acquisition through available cash in the amount of $24.2 million and the assumption of a $28.3 million term loan under a credit facility previously arranged by Capital Maritime with Credit Agricole Corporate and Investment Bank and ING Bank NV, as mandated lead arrangers and book-runners.
The term loan bears interest at LIBOR plus a margin of 2.85% and is payable in twelve consecutive semi-annual installments of approximately $1.0 million beginning in July 2018, plus a balloon payment payable together with the last semi-annual installment due in January 2024. The term loan is subject to ship finance covenants similar to the covenants applicable under our existing facilities. We expect the transaction to be consummated before January 31, 2018.
The purchase of the M/T 'Aristaios' was entered into on an arm's length basis and was reviewed and unanimously approved by the conflicts committee of our Board of Directors and our entire Board of Directors.
About Capital Product Partners L.P.
Capital Product Partners L.P. (NASDAQ: CPLP), a Marshall Islands master limited partnership, is an international owner of tanker, container and drybulk vessels. The Partnership currently owns 36 vessels, including twenty-one modern MR (Medium Range) product tankers, four Suezmax crude oil tankers, ten Neo Panamax container vessels and one Capesize bulk carrier. Its vessels trade predominantly under period charters to CMA-CGM S.A., Cosco Bulk Carrier Co. Ltd., CSSA S.A. (Total S.A.), Empresa Publica Flota Petrolera Ecuatoriana EP Flopec, Hyundai Merchant Marine Co. Ltd., International Seaways, Inc., Pacific International Lines (Pte) Ltd., Petróleo Brasileiro S.A., Repsol Trading S.A., and Capital Maritime & Trading Corp.
For more information about the Partnership, please visit our website: www.capitalpplp.com
The products and services herein described in this press release are not endorsed by The Maritime Executive.