BMT 27m CTV Hybrid Design Selected for European Offshore Wind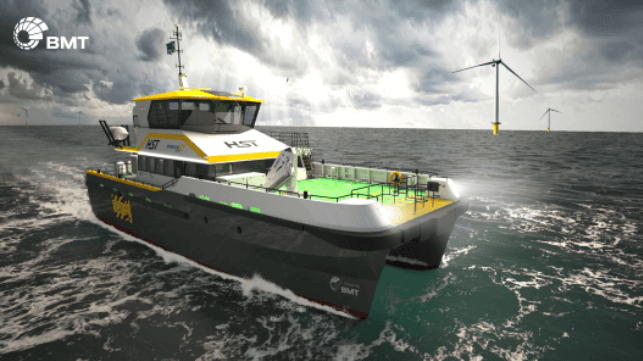 The latest evolution of the StratCat 27 CTV design developed by BMT for Strategic Marine and HST Marine features an industry-leading hull form while integrating the latest hybrid propulsion technology.
BMT is pleased to announce that its 27m design has been selected by HST Marine, a Purus Company, as one of its CTV vessel designs for the expanding European offshore wind market. Built by Strategic Marine, four hybrid StratCat 27 Crew Transfer Vessels (CTVs) will be delivered in the first half of 2023. This quartet of deliveries will be the first parallel hybrid propulsion CTVs to be built in Asia.
The design results from a collaborative process between the BMT and Strategic Marine teams. The CTV has been designed for optimal operational efficiency across various loading conditions with BMT's proven hull form, maximizing waterline length while maintaining a load line length under 24m and helping reduce emissions and fuel consumption, with a reliable Fixed Pitch Propeller Cat C32 propulsion system. With a maximum speed of more than 26 knots, crews can transport technicians quickly and efficiently.
The vessels include the latest generation, patented BMT Active Fender System ® (AFS) technology that dampens contact with the turbine tower, thereby reducing impact loads for turbine structures, allowing vessels to engage at higher sea states, and improving safety during personnel transfers.
The cabin design has been optimized for improved comfort and workflow, with ample storage space, comfortable business class seating for 24 offshore service personnel, and accommodation for up to 9 crew members. To improve visibility from the helm, the vessel's bridge deck layout has been enhanced with ergonomic positioning to increase comfort for the bridge crew. The parallel hybrid system, which reduces main engine hours and maintenance costs, can also significantly reduce vessel noise and vibration. Depending on the vessel's operational profile and charging facilities, can significantly cut the vessel's operational carbon footprint.
BMT's Head of Commercial Ship Design Sales, Martin Bissuel, said: "We are very proud to be able to continue our collaboration with Strategic Marine, customizing our designs and support services alongside their growing roster of CTV new builds. Our CTV offshore wind range, currently exceeding 70 CTV designs already in operation on wind farms worldwide, is designed to meet the industry's varying and increasingly complex needs while delivering on our commitment to reducing the vessels' impact on the environment.
"With offshore wind expanding globally, coupled with the challenges of constructing and maintaining wind farms/CTVs in various locations, a flexible and forward-thinking design mindset is needed. I can't wait to see these boats enter service with HST Marine," added Bissuel.
Strategic Marine's Chief Executive Officer, Mr. Chan Eng Yew, said: "Strategic Marine's collaboration with BMT is proving successful once again with the latest version of the increasingly popular StratCat 27. These will be the first hybrid StratCat 27 for our client HST Marine's exciting new CTV project in the European region. It's the latest example of how we are working with specialist partners to build ever-expanding fleets of low carbon vessels. This is a step forward in our decarbonization goals across our product range to meet market requirements."

www.BMT.com

The products and services herein described in this press release are not endorsed by The Maritime Executive.