Blue Water Presents New Chairman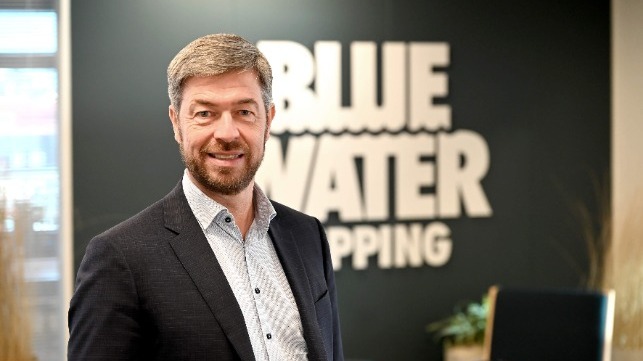 Founder Kurt Skov entrusts the role as chairman of the Blue Water group's operational board to Jørgen Wisborg.
For more than 50 years, Kurt Skov has been a leading person in Blue Water Shipping. During the first more than four decades as Chief Executive Officer and more recently as Chairman of the operational board in the transport and logistics group he founded in 1972.
"It has been amazing to head Blue Water during all these years and experience the great development our employees have contributed to in Blue Water. We are a trustworthy international transport and logistics company with clients worldwide. Further, we have delivered good financial results in recent years – based on our strong client service, culture and values. And that is how it should continue in the future", says Kurt Skov.
In connection with the company's 50th anniaversary in September last year, Kurt Skov announced that he wished to find a new head of the operational board, making it possible for him to slow down his work activities. Jørgen Wisborg has been chosen for the job, joining Blue Water after a long career as managing director for the Danish energy company OK. Additionally, he holds several seats on boards in different companies, including the presidency in Schouw & Co., which as an active owner, enables long-term value creation in its portfolio of companies.
"Jørgen Wisborg is a very skilled and experienced leader. As chairman, he will contribute to sustaining and strengthening Blue Water's strategic development in collaboration with the rest of the board and our executive management. On top of strong business skills, it has been important for us to find a chairman who will safeguard our culture and values. And we have found that with Jørgen", says Kurt Skov.
Jørgen Wisborg is looking forward to joining Blue Water.
"I am a very value-driven person, and I deeply respect the values of Blue Water: acting responsibly and having trust in all stakeholders: employees, clients and business partners. Also, the company holds a unique team and winning culture, which I can see myself in. I want to win with the companies I am a part of. However, it must be done properly, through collaboration and team efforts", says Jørgen Wisborg.
After 17 years as OK's managing director, he stepped down last year to focus entirely on board positions. Today, he has seats on several boards and considers it an essential task for a board to ensure well-functioning governance and act as an active link between the owners and management.
"I look forward to contributing to the further development of Blue Water in the right direction with a strong focus on clients and profitable growth. The company has a solid foundation, and the ownership secures excellent conditions for further positive development", says Jørgen Wisborg.
He joins the operational board as member, and after a handover process, he takes over the chairman position from Kurt Skov, who continues as board member.
The products and services herein described in this press release are not endorsed by The Maritime Executive.