Ballard to Supply Fuel Cell Modules for Norled Ferry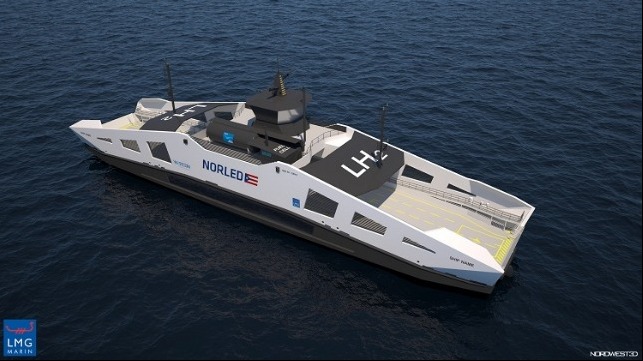 Ballard Power Systems Europe, a subsidiary of Ballard Power Systems, has announced that it has signed an Equipment Supply Agreement (ESA) with Norled, one of Norway's largest ferry and express boat operators, to provide two of the company's next-generation 200 kilowatt (kW) modules that will be used to power a hybrid ferry planned to begin operating in 2021. The Ballard modules will be designed and manufactured at the Company's new Marine Center of Excellence at its facility in Hobro, Denmark.
The Norled vessel – which has carrying capacity for up to 299 passengers and 80 cars – is expected to be the first liquid hydrogen fuel cell-powered ferry in commercial operation globally.
The Administration Director of Norwegian Public Roads, Terje Moe Gustavsen said, "Hydrogen will be the last piece in order to get zero-emissions in the ferry sector. Hydrogen is the solution where electric operation alone is not possible."
Ingvald Løyning, Norled's Chairman added, "On behalf of Norled, I am both proud and humble to be a part of this pioneer project. This represents a green historical turning point for both Norled and the rest of the maritime sector."
Jesper Themsen, President and CEO of Ballard Power Systems Europe noted, "Norway's government has demonstrated leadership by enforcing the phasing in of low and zero-emission solutions in its marine industry by 2030, including the introduction of requirements for zero-emission tourist ships and ferries in its world heritage fjords by no later than 2026. For many of the 100 high speed ferries operating on routes in Norway, however, battery powered propulsion is not practical due to the associated weight and long recharging time required. Therefore, we believe hydrogen fuel cell systems offer ferry operators a viable zero-emission propulsion pathway."
Ballard zero-emission fuel cell modules offer a compelling value proposition: (i) design flexibility, including modular components and scalable power (from 100kW to over 1 megawatt) to support vessel propulsion, auxiliary power and/or system redundancy; (ii) extended range, proportionate to the volume of energy-rich liquid hydrogen fuel stored on board a vessel (which can also be rapidly replenished), rather than creating a weight challenge through the addition of heavy batteries; and (iii) positive economics, underpinned by the compatibility of fuel cell DC power with battery hybrid electric architectures.
Norled operates 80 ferries and express boats and has invested significantly in new types of vessels and eco-friendly technologies. Norled employs more than 1,000 people, has its head office in Stavanger and branch offices in Bergen and Oslo. Norled is a wholly-owned subsidiary of Det Stavangerske Dampskibesselskab, which also owns Tide, a Norwegian public transport company focused on buses and other fast passenger craft.
The products and services herein described in this press release are not endorsed by The Maritime Executive.