Agreement for Methanol Main Engine Retrofit Solutions Signed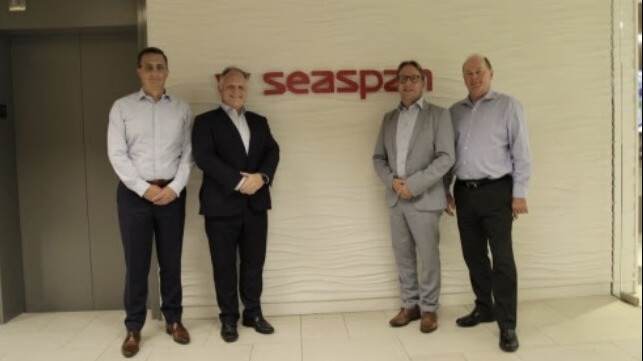 [By: MAN Energy Solutions]
MAN PrimeServ to deliver engine retrofit solutions for Seaspan and Hapag-Lloyd vessels for dual-fuel propulsion.
MAN Energy Solutions has signed a Conversion Commitment Agreement with Seaspan Corporation (Seaspan), a global leader in containership ownership and management in collaboration with Hapag-Lloyd, one of the leading global liner shipping companies. Under the terms of the Agreement, MAN PrimeServ, MAN Energy Solutions' after-sales division, will deliver 15 engine retrofit solutions for conversion of vessels powered by individual MAN B&W S90-type fuel-oil-powered engines from the Seaspan and Hapag-Lloyd fleets to dual-fuel ME-LGIM engines capable of running on green methanol. This Agreement includes 45 optional engine retrofit solutions. Each conversion can provide a CO2 reduction of 50.000–70.000 Tonnes each year, when operating on green methanol.
Bing Chen, President and Chief Executive Officer, and Torsten Pedersen, Chief Operating Officer, signed the Agreement on behalf of Seaspan, while Thomas Leander, Head of Solutions and Site Manager, Frederikshavn, Denmark; Jens Seeberg, Head of Retrofits & Upgrades, MAN PrimeServ Denmark; and Brian Østergaard Sørensen, Vice President and Head of R&D, Two-Stroke Business signed on behalf of MAN Energy Solutions. The development of this solution opportunity has been led by Thomas Leander of MAN Energy Solutions, Peter Curtis of Seaspan and Richard von Berlepsch, Managing Director Fleet of Hapag-Lloyd.
Seaspan is the largest global containership lessor, primarily focused on long-term time charters with the world's leading container shipping lines. With an industry-leading newbuild program of 70 vessels, Seaspan will bring its owned fleet to a total of 200 vessels and 1.9mn TEU capacity.
With a fleet of 250 modern container ships and a total transport capacity of 1.8 million TEU, Hapag-Lloyd is one of the world's leading liner shipping companies. Hapag-Lloyd aims at operating its vessels in a climate-neutral manner to become net-zero carbon by 2045.
Leander said: "Seaspan and Hapag-Lloyd, are significant maritime stakeholders with strong fleet-decarbonisation commitments and strategies. This Agreement shows clear intent to drive the industry transition toward zero-carbon shipping. Retrofitting existing engines to dual-fuel running is one of the most effective ways to reduce greenhouse gas emissions and to derive greater efficiency and profitability from an existing shipping fleet, while simultaneously delivering fuel flexibility and extending operational lifetimes. Crucially, this also avoids the unnecessary building of additional tonnage with associated CO2 emissions, and thereby showcasing that retrofitting the existing maritime fleet is an important and feasible path.
With this collaborative agreement, we proceed our journey providing decarbonisation solutions for the maritime industry."
About the MAN B&W ME-LGIM engine
MAN Energy Solutions developed the ME-LGIM (-Liquid Gas Injection Methanol) dual-fuel engine for operation on methanol, as well as conventional fuel. The engine is based on the company's proven ME-series, with its approximately 8,500 engines in service, and works according to the Diesel principle. When operating on green methanol, the engine offers carbon-neutral propulsion for large merchant-marine vessels. Currently more than 100 ME-LGIM engines are on order or in service, more than 50 of which are G95ME-C10.5-LGIM variants.
Methanol carriers have already operated at sea for many years using the engine, and, as such, the ME-LGIM has a proven track record offering great reliability and high fuel-efficiency.
For further information please visit: http://www.man-es.com/company/press-releases.
The products and services herein described in this press release are not endorsed by The Maritime Executive.