Awakening Connectivity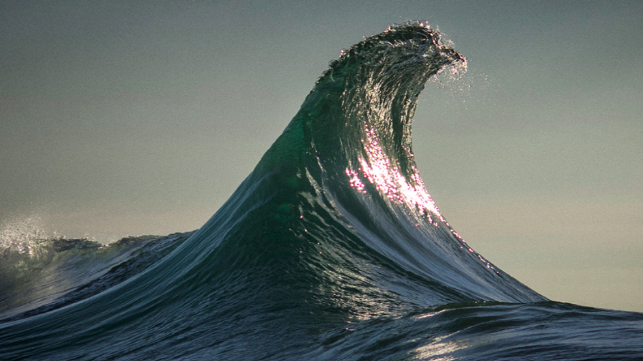 Helsinki-based technology group Wärtsilä wants to lay the foundations for a future where connectivity – of systems, industry and stakeholders – drives greater efficiency, environmental performance and living standards. Roger Holm, president of Wärtsilä Marine Solutions, explains 'An Oceanic Awakening'.
"If you connect things you create greater efficiency, understanding and value. That's smart. Working in isolation is not," Holm says. It's a simple idea that forms the foundation for some very complex systems and breathtakingly ambitious objectives.
Transforming tomorrow
September 2018 saw Wärtsilä launch its An Oceanic Awakening initiative. This project aims to bring together maritime cities, ports, businesses, wider industrial players, tech firms, and a broad range of stakeholders from across society to plan the creation of one efficient, digitally connected and environmentally sound 'smart ecosystem'.
This is an ecosystem with the potential to create more productive working environments with better living standards for citizens of cities by the sea. Ecosystems where, for example, port infrastructure could be situated offshore, allowing for a 'clean' re-imagination of shore side use, innovation hubs could be built to help stakeholders collaborate for new solutions, and automated green transport networks could connect urban shorelines.
It's a radical approach that will spawn, Wärtsilä says, "new business opportunities for the benefit of all" while creating more sustainable, efficient and pleasant urban living.
It all may sound like an impossible dream, but not according to Holm.
2020 vision

"There are so many stakeholders working independently to achieve their own objectives," he states, "both at sea and on shore. This creates a barrier to progress. But if we can activate a process whereby those stakeholders collaborate towards a shared objective we can accelerate positive change. We need real-time communication networks, data enabled processes and decision making, connectivity across segments and industry verticals – we need to work together. And we believe we've made a start."
That start revolves around SEA20, a forum in which Wärtsilä aims to recruit 20 of the leading maritime cities by 2020, creating a network that will collaborate to foster new ideas, deploy best practices and adopt smarter ways of doing business. Rotterdam, Hamburg and Helsinki are the first hubs to commit to the program. The first workshop, featuring 18 renowned experts from fields as diverse as air quality monitoring, crowd-sourcing, logistics, architecture and academia, took place in August.
"It's the first project of its kind, so we understand it is ambitious - but we don't see that as a barrier, rather an opportunity," Holm says. "It's our hope this will evolve and take on a life of its own, with Wärtsilä becoming just one of the participants rather than the lead. This form of collaboration is central to unlocking development."
Business benefits

Of course the drivers for this project are not completely altruistic. Wärtsilä is, after all, a business. The marine business, and industry outlook as a whole, is "moving in the right direction," according to Holm. The pay off in terms of the Oceanic Awakening is the opportunity for Wärtsilä to position its technology at the heart of the new ecosystems.
"Our products are designed to deliver standalone benefits, but really fulfil their potential when used together, when they are connected. For example, take our fully integrated vessel hybrid power system (Wärtsilä HY), our intelligent routing and navigation software (NACOS Platinum) and the automated dock-to-dock technology that was successfully tested this year on-board Norled's Folgefonn passenger ferry in Norway," Holm says. "This latter development was the first time in the world that an autonomous operation took a ferry from dock-to-dock, visiting three ports without human intervention. The captain simply selects 'sail' and the journey begins."
Collaborating for change

Wärtsilä's smart ecosystem strategy looks set to be the platform for its presence at Nor-Shipping 2019. Holm sees obvious synergy between the exhibition week's drive to embrace wider ocean opportunities, encapsulated by its new 'Blue Economy' hall, focusing on the sustainable use of ocean resources, and Wärtsilä's An Oceanic Awakening.
"Smarter sustainability and smarter business go hand in hand, there's no contradiction," he says. "Regulations and wider pressure from society for better environmental performance creates business opportunity. We can all use energy more efficiently, find new ways of working together and innovate. Nor-Shipping is a natural meeting place for progressive customers, ideas and collaborators, so we look forward to connecting with them in Norway next year."
For the time being Holm and Wärtsilä look set to focus on building momentum behind their An Oceanic Awakening initiative while continuously developing, improving and marketing a smart product portfolio that supports it.
"Working with a growing group of partners on this project will help us understand and influence the changing needs of the maritime and energy sectors, refining our products and sparking new innovations for our team. But we are just one player in this," Holm concludes. "We can't do it on our own and we need broad-based participation to create the greatest benefits for both industry and society. Together we can accelerate real change. We just need to connect."
Nor-Shipping 2019 will be held June 4-9 in Oslo, Norway. For more information, please visit www.nor-shipping.com.
The opinions expressed herein are the author's and not necessarily those of The Maritime Executive.