Yemeni Coalition Forces Move Closer to Hodeidah's Port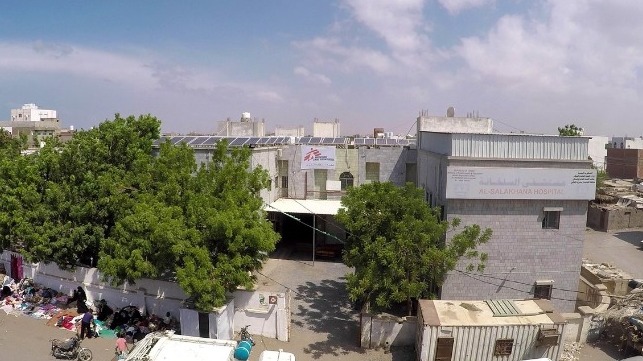 The assault on the strategic seaport of Hodeidah, Yemen advanced Thursday with reports that UAE-backed Yemeni forces have seized territory near Street 50, on the city's edge. The new gains put coalition forces about five miles away from the port complex.
The UN has repeatedly warned that fighting near Hodeidah's port could harm millions of Yemenis. An estimated eight million people in Yemen are considered food insecure, and the number may soon rise by an additional 3.5 million. As the port of Hodeidah handles the majority of the nation's food imports, its shutdown could endanger the flow of the aid supplies that currently sustain much of the country's population.
As of Wednesday, the seaport at Hodeidah remains open, but the main roads to the south and east of the city are closed to aid convoys, according to the UN World Food Program. The port of Mokha, near the Strait of Bab el-Mandeb, is closed.
Medecins Sans Frontieres has reported heavy ground fighting, shelling and naval bombardment in Hodeidah since November 1. "Saudi and Emirati-led coalition-backed forces . . . have moved quickly around the city," says Frederic Bertrand, MSF head of mission in Yemen. "Every day we hear the sound of heavy airstrikes and shooting."
Bertrand warned that a protracted seige would affect tens of thousands of civilians still living within Hodeidah's limits. An estimated 600,000 people have fled the city, but many more remain within, trapped by the fighting and by the escalating cost of transportation.
Amnesty International reported Thursday that Houthi fighters have taken up a position on the roof of a hospital near Street 50, which has seen intense fighting in recent days. Armed fighters have reportedly been coming and going from the rooftop ever since. "Placing gunmen on a hospital roof blurs lines which should never be blurred. Hospitals are not a target: the sick and injured have an absolute right to safe medical treatment at all times," said Amnesty spokesperson Samah Hadid in a statement.
Airstrikes and ground fighting are taking a toll on civilians, according to MSF. The group reported treating 24 wounded civilians in Hodeidah last week, most with blast injuries, and 50 more at the port city of Mokha, to the south.