Wreck of the Sewol Loaded Onto Heavy Lift Ship
Salvage operation is nearly complete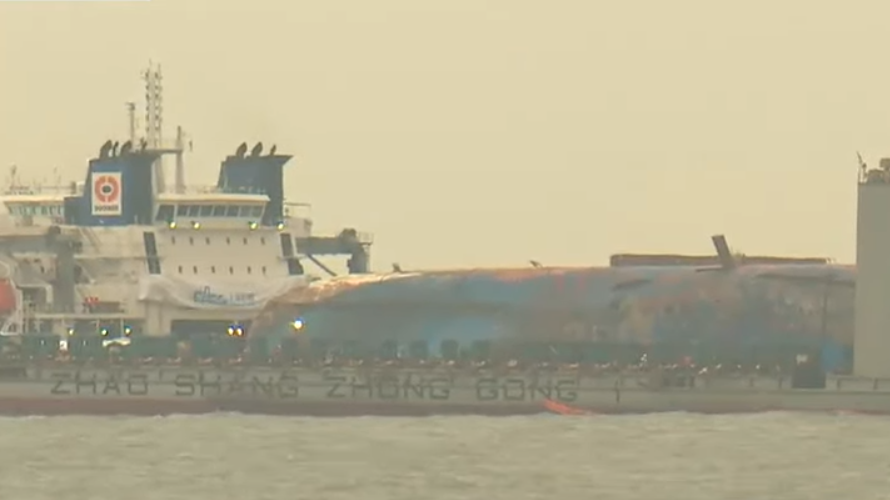 In the early hours of Saturday morning, Korea's Ministry of Maritime Affairs and Fisheries confirmed that salvage crews have successfully loaded the wreck of the ferry Sewol onto the deck of the semi-submersible ship Dockwise White Marlin. The long-running salvage operation is nearly complete, and all that remains is to bring the wreck to the port of Mokpo for examination.
The salvage was delayed by a dangling stern ramp on the Sewol's port side, which would have interfered with loading the wreck onto the deck of the semi-submersible. In order to finish the operation in advance of dangerous tidal currents, which are expected at the site this weekend, salvage divers cut the ramp free so that the work could continue.
Before the Sewol's hull is shipped to Mokpo, salvors will unlash it from the lifting barges that picked it up from the seafloor and will allow it to drain, a process that is expected to take several days. Despite earlier efforts to empty the vessel's fuel tanks, oil pollution was observed during the lifting process, and it is possible that petroleum will continue to leak into the environment during the remainder of the evolution. Response equipment has been prepared to reduce the effects of any spill.
Yoon Hak-bae, a spokesman for the ministry, said that the heavy lift ship should reach Mokpo by April 4 at the latest – less than two weeks before the third anniversary of the vessel's sinking. Once the wreck arrives, it will be transferred to a drydock by multiple modular transporters, the centipede-like wheeled vehicles used for heavy lift ro/ro operations.
The salvage may be the deepest lift of a complete hull ever attempted. In addition to the depth, work conditions at the wreck site – including strong, changeable currents and low visibility – made every aspect of the project more time-consuming and difficult.
The loss of the Sewol was a national tragedy in South Korea: over 300 people died, most of them schoolchildren, and the vessel's captain was convicted of manslaughter and sentenced to life in prison. The Sewol is being recovered whole due to political pressure from the victims' families, who would like the government to find the last missing bodies and to complete an examination of the vessel itself.