Wood Chip Carrier Catches Fire Twice in Cape Town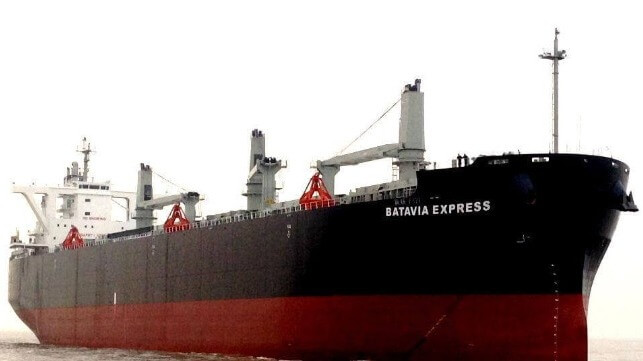 Firefighters and salvors have brought a large cargo fire under control aboard a bulker at the port of Cape Town.
On Saturday, a fire broke out in a cargo of eucalyptus paper bales in the forward hold of the wood chip carrier Batavia Express. The Cape Town fire department responded to the scene, and assisted by expert salvors from Smit, they set about extinguishing the blaze and preserving the rest of the cargo. Fire-damaged paper bales were pulled out of the hull, extinguished and landfilled, a fire department spokesperson told local outlet IOL.
The undamaged cargo will be transferred to a nearby warehouse for temporary storage. The situation is under control, but the full salvage operation is expected to extend through this Friday.
According to specialist outlet Insurance Marine News, it is the second time Batavia Express has had a cargo hold fire in less than a month. In mid-September, while the ship was under way from Santos to Qingdao, a fire broke out in one of the holds. Batavia Express had to divert to the anchorage at Saldanha Bay, north of Cape Town, arriving Sept. 16. A team of 10 local firefighters joined the ship to bring the fire under control, and the vessel was allowed to berth in Cape Town on Sept. 20. It was fully extinguished by Sept. 22.
AIS data shows that Batavia Express has remained in Cape Town since the end of the previous fire.
At the time of her delivery in 2013, the 70,000 dwt Batavia Express was the largest purpose-built wood chip carrier in the world. She is operated by a Singaporean firm and has maintained a clean port state control inspection record.