Wärtsilä Halves Methane Emissions from Popular Dual-Fuel LNG Engine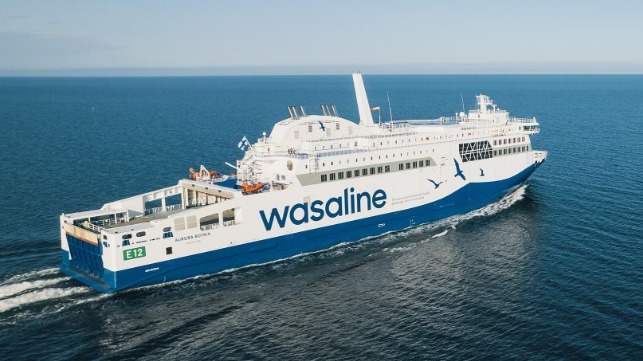 Wärtsilä is reporting a breakthrough in enhancing the performance of its popular dual-fuel engine that dramatically improves efficiency while reducing already low emissions and nearly eliminating methane slip. The company believes that improving the dual-fuel technology to reduce methane emissions while using LNG will have a major impact on the long-term viability of LNG as a marine fuel.
Launch in 2015, the Wärtsilä 31DF engine is already recognized for its fuel economy and high performance. Speaking during a briefing on the introduction of the new version of the engine, Juha Kytölä, Director of R&D and Engineering at Wärtsilä, reports they made alterations to further optimize its performance. He highlights that they are using two-stage turbocharging which gets more air into the engine and fully electronic controls for further enhanced combustion. They also optimized the design of the combustion chamber to reduce the possibility of fuel being left in spots to create very stable combustion while also ensuring that almost all the fuel is combusted.
The result is that they averaged a better than 40 percent reduction in methane emissions. They were also able to achieve up to a 56 percent reduction in methane emissions and up to 86 percent reduction for NOx emissions while running the engine on a medium load.
"We already had the lowest emissions in the market and now we are halving it again," said Kytölä. Equally important toward meeting the longer-term environmental and climate regulations, which phase in methane in 2026, he highlights that it is possible to produce a 20 percent well-to-wake reduction along the full supply chain of LNG.
The modifications to the engine have already been tested they highlighted in actual operations. Working with customer Wasaline, one of the four engines aboard the ferry Aurora Botnia (24,000 gross tons built in 2021) was adapted as part of the EU co-funded Green Ray and SeaTech projects.
The companies are reporting that they achieved "exceptional results" during the pilot project. They reported a further 10 percent reduction in the ferry's methane emissions in independently verified tests. Jonas Tier, Technical Director at Wasaline highlights that this was a further step ahead in the efforts to reduce emissions from the Wasaline fleet. He notes the ferry also employs a hybrid system with batteries and the success of the modification is also a step toward using biogas. Wasaline plans to begin testing biogas this fall.
Wärtsilä notes that LNG is already a widely favored marine fuel due to its positioning as the cleanest fuel currently available to the industry. However, scientists and environmentalists have been highly critical of methane emissions which are a far more potent greenhouse gas. By reducing emissions Wärtsilä believes it can help to futureproof ships currently in service and protect the investments being made by shipowners.
DNV calculates that there are approximately 450 LNG-fueled vessels currently in operation in the worldwide fleet. That number is expected to more than double to nearly 1,000 ships over the next five years.
Wärtsilä reports that it plans to introduce larger and smaller engines on the same platform incorporating the modifications that were made to the 31DF model. They also point out that the engine is also ready for biogas use providing another critical pathway toward decarbonization.