Virgin Voyages Introduces Third Cruise Ship After 11-Month Delay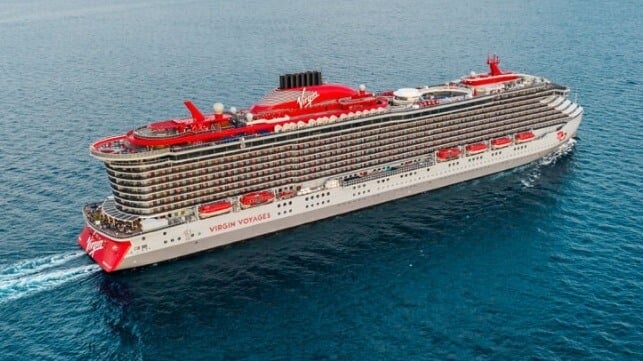 Virgin Voyages is preparing for the introduction of its third cruise ship after an 11-month wait. The brand started by famed entrepreneur Sir Richard Branson was confronted with the challenges of not only starting a new cruise brand but also having to undertake it during the pandemic.
The third ship, Resilient Lady, has been waiting to go into service since she was completed in July 2022 and delivered to Virgin Voyages in December 2022. She was built by Fincantieri at the Sestri Ponente shipyard near Genoa, Italy as the third in a class of four identical cruise ships. Each of the cruise ships is 912 feet in length and about 110,000 gross tons. They use Fincantieri's Mille design concepts with a narrow superstructure that provides about 10 percent more cabins, increased outdoor deck space including areas closer to the sea than other cruise ships, and increased operating efficiency.
The cruise line had announced plans to introduce Resilient Lady in August 2022 sailing the Mediterranean from Greece followed by a season from Australia. However, in June 2022, they announced her introduction would be delayed to May 2023. The ship was completed in July and moved from Genoa to Palermo while Fincantieri agreed to defer the delivery. Delivery took place on December 9 and the cruise ship finally departed Italy at the beginning of May making stops in Piraeus and Mykonos, Greece, and Bodrum, Turkey in preparation for the maiden voyage. She arrived earlier this week in Piraeus for her first revenue cruise on May 14.
It was only the latest in a series of delays and challenges Virgin Voyages has faced. They took delivery of their first cruise ship, Scarlet Lady, in February 2020, weeks before the emerging pandemic forced a shutdown that would last till August 2021. The company took delivery of its second cruise ship, Valiant Lady, on July 2, 2021, which would defer its first revenue cruise till March 2022.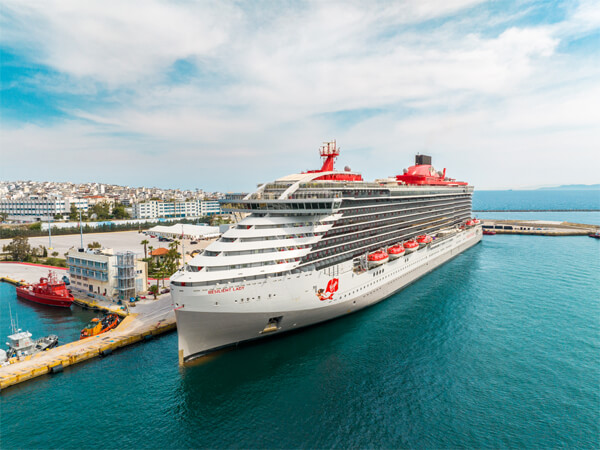 Resilient Lady docked in Piraeus, Greece preparing for her maiden voyage (Virgin Voyages)
"I'm thrilled this day is finally here and that Resilient Lady has officially joined our fleet," said Tom McAlpin, CEO of Virgin Voyages. He points out that while it has been a challenging startup for the brand, they are winning awards and recognition. He said up to 40 percent of passengers have rebooked for a future cruise while they were still on board.
The cruise line has become well-known for its irreverent style and unique approach. Offering a premium product, the ships are adults-only (no passengers under age 18) and eliminated traditional cruise concepts including a main dining room in favor of multiple restaurants all of which are included in the fare. Some elements of the operation have had to be refined with the line reporting they are unveiling new food and beverage offerings with Resilient Lady, including a new "after dark" menu and a Greek-inspired food and beverage menu. The passenger cabins were also renovated on the first ships in response to passenger comments about a lack of storage and warmth in the style of the rooms.
The cruise ships feature a hydrodynamic hull design and alternative energy technologies that reduce emissions. They have a total of approximately 1,400 cabins and suites, 93 percent of which are outsides with a view, and 86 percent have private balconies. The ships accommodate 2,770 passengers with a crew of 1,160.
Virgin Voyages is scheduled to introduce its fourth cruise ship in December 2023. The Brilliant Lady was floated out by Fincantieri in November 2022 and is currently outfitting. She is due to sail from San Juan starting at the end of the year while the Scarlet Lady and Valiant Lady will be sailing from PortMiami and Resilient Lady will arrive in Australia a year behind schedule.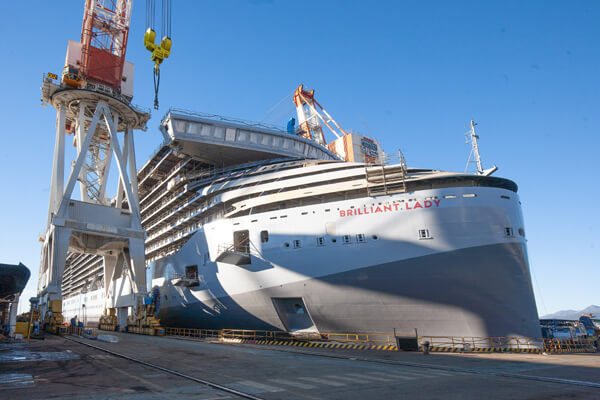 Virgin's fourth cruise ship Brilliant Lady is completed her outfitting in Italy for a year-end 2023 introduction (Fincantieri)