Virgin Hyperloop One Announces New Leadership Team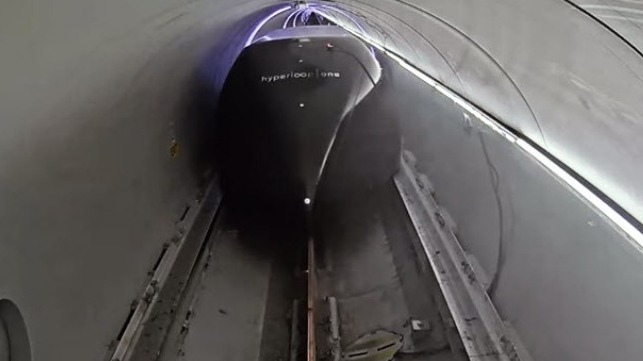 Virgin Hyperloop One has announced that Sultan Ahmed bin Sulayem, Group Chairman and CEO of DP World, has been elected as its new Chairman. The announcement follows a new round of funding which means DP World will become Virgin Hyperloop One's largest investor.
Jay Walder has been appointed as its new CEO and will also join the company's board of directors. Walder has served as Chairman and CEO of the Metropolitan Transportation Authority in New York, CEO of the MTR Corporation in Hong Kong and Managing Director at Transport for London. Most recently he ran Motivate, the global leader in bike share, before its sale to Lyft. Walder was also a Partner at McKinsey where he led the Global Infrastructure Practice.
"I have focused my career on using technology to advance innovation in transportation, so I could not pass up the opportunity to lead the company that has pioneered hyperloop," said Walder. "I look forward to joining the company at this incredibly exciting time and working with our partners to revolutionize sustainable urban development and travel."
bin Sulayem replaces Richard Branson, who stepped down last month, while Walder will replace Rob Lloyd, who served as CEO for more than three years, guiding the company through its largest expansion including creating the first and only hyperloop system, a pipeline of projects globally and raising substantial funding. Branson's board seat will be taken by Virgin's Patrick McCall.
The selection of a new senior management team is a move to transition the company from a technology startup to a mass transportation company beginning with the anticipated implementation of the world's first hyperloop system running from Pune to Mumbai. If the Indian government awards it a concession for the project, the company expects to start constructions on the 11 kilometer test loop in 2019. The hyperloop is expected to reduce the travel time between Mumbai and Pune from about four hours to 25 minutes.
130,000 vehicles travel between Pune and Mumbai daily and the route sees over 100 million people annually. The high-capacity passenger and cargo hyperloop route eventually will support 150 million passenger trips annually, saving more than 90 million hours of travel time. The hyperloop system will also have the potential for the rapid movement of palletized freight and light cargo between the Port of Mumbai and Pune.
The Pune-Mumbai route could result in $55 billion in socio-economic benefits (time savings, emissions and accident reduction, operational cost savings, etc.) over 30 years of operation, according to an initial pre-feasibility study completed by Virgin Hyperloop One. The 100 percent electric, efficient hyperloop system will ease severe expressway congestion and could reduce greenhouse gas emissions by up to 150,000 tons annually.
Hyperloop is a futuristic mode of passenger and freight transportation in which a pod-like vehicle is propelled through a near-vacuum steel tube, with most of its air removed, at higher than airline speed. Magnetic levitation technology combined with a low-pressure tube environment enables the pods to move quickly with little friction.
Hyperloop can achieve top speeds of up to 300 meters/second, making it two to three times faster than high-speed rail. The technology facilitates autonomous operations, says DP World, to reduce human errors and run with minimal delays. It is fully electric, could be run using renewable energy and generates zero direct emissions.