Viking Launches Seven New River Ships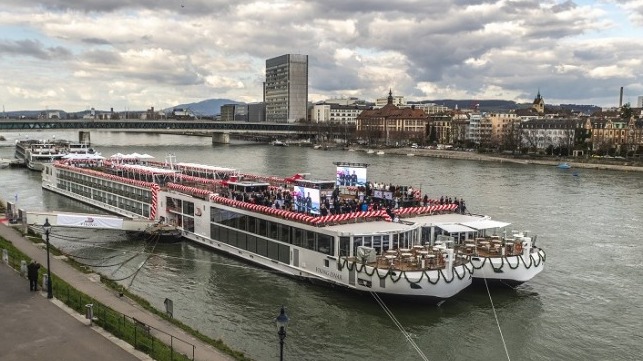 Viking welcomed seven additions to its river fleet on Tuesday during a celebration on the Rhine River in Basel, Switzerland.
Of the seven ships, six are 443-foot, 190-passenger Viking Longships – Viking Einar, Viking Sigrun, Viking Sigyn, Viking Tir, Viking Ullur and Viking Vali – which will be deployed on Viking's most popular itineraries on the Rhine, Main and Danube Rivers. The seventh, smaller 263-foot ship – Viking Helgrim – was inspired by the Longships design and built specifically for the Douro River, bringing the company's total number of sister ships in Portugal to four.
This launch of new river ships is Viking's latest milestone as the company continues to expand. Last month the company took delivery of its sixth ocean ship, Viking Jupiter, built by Fincantieri and to be named in Oslo on June 6.
"We began hosting guests on the rivers of Russia 22 years ago, and we have always done things differently. We focus on the destination, and we provide travel experiences that allow our guests to learn, to enrich their lives and to explore the world in comfort. It is 'The Viking Difference,'" said Torstein Hagen, Chairman of Viking.
Viking invited seven long-serving employees and important members of the company's family to serve as honorary godmothers of the new ships:
Leah Talactac, Godmother of Viking Einar
Natalia Hofmann, Godmother of Viking Helgrim
Wendy Atkin-Smith, Godmother of Viking Sigrun
Rikke Semb Pertile, Godmother of Viking Sigyn
Gisela Rückert, Godmother of Viking Tir
Linh Banh, Godmother of Viking Ullur
Minxuan Zhao, Godmother of Viking Vali
In keeping with another maritime tradition, a bottle of Gammel Opland aquavit was broken on the bow of each new ship. Gammel Opland hails from the same county in Norway that Hagen's mother, Ragnhild – also lovingly known as "Mamsen" – was born in and was her favorite brand of aquavit.