Video: Yacht Thief Rescued Moments Before Boat Capsizes in Surf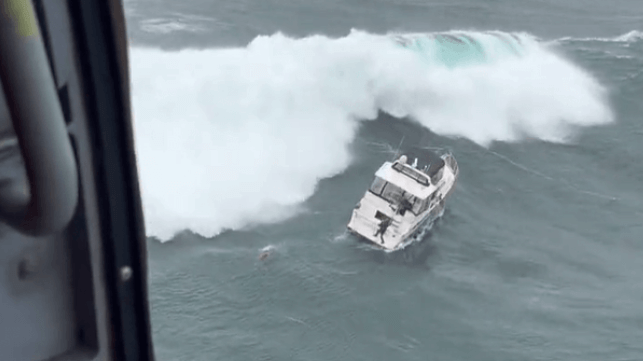 On Friday, the U.S. Coast Guard carried out a daring rescue of a boater in peril near the Columbia River Bar - only to discover that he was a thief.
While flying a training mission at the mouth of the Columbia River, two U.S. Coast Guard air crews received a mayday from the recreational vessel Sandpiper, a small fiberglass motor yacht. The vessel was out in exceptionally rough surface conditions, with wind and breaking waves.
Coast Guard Sector Columbia River dispatched motor lifeboats from Cape Disappointment to respond, and the aircrews flew to the scene to stand by. The heavy wave action made it too dangerous to approach in a motor lifeboat, so one of the aircrews decided to lower a rescue swimmer into the water and have the boat's occupant abandon ship.
(2/4)…who launched motor life boats from STA Cape Disappointment, the air crews arrived on scene to find the vessel floundering in the surf! The surf made rescue by boat dangerous, so the aircrew decided to lower the rescue swimmer and have the owner enter the water for rescue… pic.twitter.com/z92WvzpTG9

— USCGPacificNorthwest (@USCGPacificNW) February 3, 2023
As the man jumped over the side and into the water, a breaking wave swept away the yacht and rolled it through 360 degrees. The victim was safely recovered, despite the extreme risk, and was brought back to Astoria for medical evacuation. He had mild hypothermia but was otherwise unharmed, and he was treated at Columbia Memorial Hospital and released.
Later that day, the Astoria Police Department received a call from the local port security chief, Matt Hansen. He had recognized the yacht Sandpiper in the video footage that the Coast Guard released of the rescue. The boat had recently been stolen. Hansen called the boat's owner to confim, then contacted the police.
At about the same time, other citizens contacted the police department to identify the survivor, 35-year-old Canadian national Jericho Labonte. Labonte was already wanted in British Columbia for "five unendorsed warrants for charges of criminal harassment, mischief and three counts of failure to comply," he had recently been caught on camera leaving a dead fish on the porch of a historic house in Astoria (for reasons unknown).
Labonte had already left the hospital by the time that Astoria's police department put out a notice seeking his arrest, but he was spotted and picked up by the police later in the day. He faces charges of theft, endangering another person, unauthorized use of a vehicle and criminal mischief, in addition to the existing charges in Canada.