Joint USCG, Army, Navy Team Installs Floating Causeway in Antarctica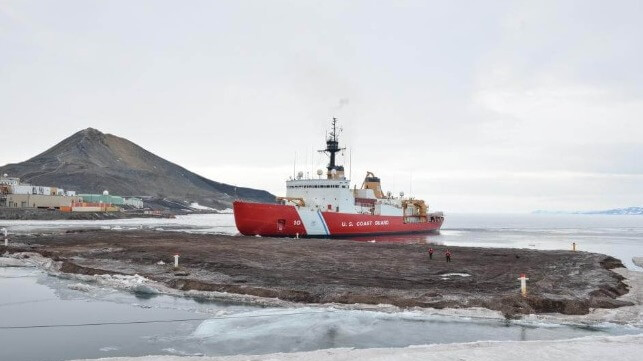 Every year, the icebreaker Polar Star heads south from Seattle on a mission to clear a path to America's primary research base in Antarctica, McMurdo Station. The mission is a difficult one, from the ship's heavy rolling in the Pacific swells to the deafening sound of breaking ice on the hull. This year, the aging heavy icebreaker had a slightly different assignment: after arriving and clearing the harbor she would need to reposition McMurdo's ice pier.
Every year since 1973, the shore team at McMurdo Station has built an ice pier to bring ships alongside and receive cargo. The construction method is relatively simple: the crew pumps seawater into an enclosed area on top of the ice, building it up until it is thick enough to take the load of cargo operations. This is not without its challenges; in 1983 the pier cracked, slowing cargo movement.
This year, the weight of the cargo deliveries to McMurdo Station were too heavy for the ice pier because of the weight restrictions of the pier's Bailey bridge, a type of portable bridging system, according to the U.S. Army 7th Transportation Brigade. (Alternatively, the ice pier was "damaged and unusable this year," according to Military Sealift Command.) The 30,000 tonne ice pier would have to be relocated and a U.S. Army modular floating causeway system installed to take the heavier equipment.
Polar Star backed and filled to move the pier over to make space for the floating causeway system, like maneuvering a barge in a fleeting area. For service as a "tug," her 75,000 HP turbine powerplant gives her adequate thrust, and her 1.75-inch-thick hull plating is thick enough to push ice without harm.
Once the ice pier was in its new position, the chartered heavy lift cargo ship Ocean Giant moored against it, using her cranes to offload causeway sections into the water. She also delivered two small tugs to move the components into place and shuffle them around the harbor until they were in the desired order. A team of Navy Seabees worked with the Army 7th Transportation Brigade (Expeditionary) to deliver and install the causeway system.
"It has a one-foot draft, gets closer to shore, and we can break the causeway down smaller than other DoD causeways," said Capt. Tara Espinoza, 7th TB(X) Officer in Charge.
The installation process took several days, according to MSC.