Video: Surveying a Historic Wreck From the Age of Steam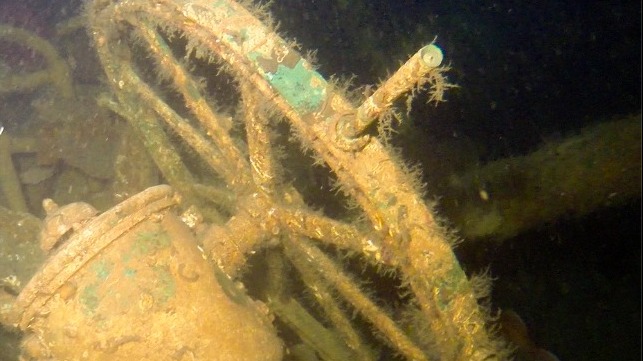 The U.S. Coast Guard is working with the National Oceanic and Atmospheric Administration to document the historic shipwreck of the Coast Guard cutter McCulloch, which was recently added to the National Register of Historic Places.
The McCulloch was commissioned in 1897, and at the time of her construction she was the largest U.S. cutter ever built. With wooden hull planking, a steel frame, a barkentine rig and a triple-expansion steam engine, her design was emblematic of the transition between the age of sail and the age of steam.
McCulloch was lost in a collision with the passenger steamship SS Governor near Point Conception on June 13, 1917. That morning, while navigating in dense fog, the master aboard McCulloch heard the fog horn of the Governor off the starboard bow. He ordered full astern, but it was not enough to avert a collision, and the Governor's bow holed the McCulloch on the starboard side. The Governor rescued all crewmembers before McCulloch went down.
In October 2016, a joint NOAA and Coast Guard training mission confirmed the location of the McCulloch's final resting place. Working off the Channel Islands National Marine Sanctuary's research vessel Shearwater, a science team from NOAA, National Park Service, and Coast Guard Dive Lockers Alameda and San Diego deployed a ROV to survey the shipwreck.
Today, the wreck lies within waters of the proposed Chumash Heritage National Marine Sanctuary.
"McCulloch had a remarkable career as both a U.S. Revenue Cutter Service vessel and U.S. Coast Guard cutter," said Daniel Koski-Karell, a Coast Guard historian. "Its participation in the Spanish-American War's 1898 Battle of Manila Bay is memorialized by the trophy cannon the McCulloch brought to the U.S., [which] stands today in front of the Coast Guard Academy's Hamilton Hall."
Koski-Karell and fellow historian Scott Price worked with Robert Schwemmer, a NOAA maritime archaeologist who helped discover McCulloch's wreck, to draft and submit a nomination to put the vessel on the National Register of Historic Places. The wreck was officially listed on April 22, and NOAA and the Coast Guard will continue to visit the site to document its condition with ROV footage.