Video: Spanish Navy Rescues Seafarers from Nigerian Pirates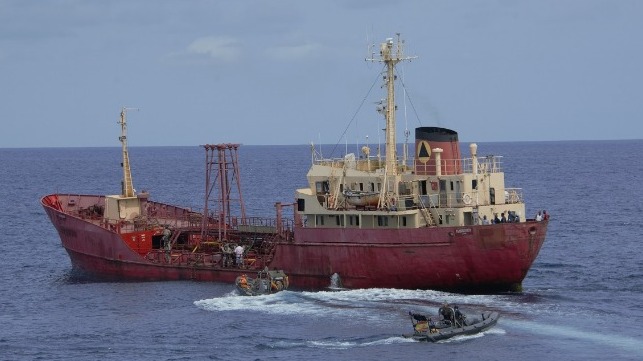 On April 9, the crew of the Spanish Navy patrol vessel Serviola successfully rescued the crew of a Nigerian merchant vessel from a gang of pirates.
The Serviola's crew observed the Nigerian vessel behaving in an unusual manner for a merchant ship, and they spotted a small boat in its vicinity, raising suspicion. The vessel did not respond to radio calls, so the Serviola's commanding officer launched two small RIBs to investigate. As the Serviola's launches approached, the small boat fled the scene at high speed.
"As we approached, we found that there was no response and that the boat moved away," said Capitán de Corbeta Román González-Cela Echevarría, the CO of the Serviola, speaking to Spanish radio service COPE.
When the Serviola's boarding party reached the merchant ship, its captain told them that the vessel had been hijacked four days ago, and that the Serviola's rapid approach and continuous radio calls scared off the pirates. According to the captain, the group of pirates consisted of nine attackers armed with AK-47 rifles and grenade launchers. The pirates had pointed their guns at the master and ordered him not to answer the Serviola's VHF calls.
El patrullero 'Serviola' @armada_esp libera a un buque mercante de bandera nigeriana de un secuestro de un grupo de nueve piratas. Aquí ???? las imágenes desde el buque español, en labores de Vigilancia y Seguridad Marítima en el Golfo de Guinea

Más info????https://t.co/Vx2EibHciZ pic.twitter.com/cLu4TMNyPs

— Estado Mayor Defensa (@EMADmde) April 10, 2019
During the hijacking, the pirates stole all of the money and valuables of the 12 members of the ship's Nigerian crew. The attackers also took a significant portion of the ship's provisions.
The Serviola remained on scene for one day to provide food and drink to the vessel's crew. The merchant vessel then made her way to the port of Lagos, and the Serviola resumed her patrol.
According to Capt. Echevarría, the pattern of piracy off Nigeria is different from the modus operandi used by Somali pirates in years past. "They make quick attacks, with the intention of taking everything there is - something that is very different with respect to Somalia, where the boats [were] taken to the waterfront where they then ask for [ransom]," he said.
The Serviola is deployed to the Gulf of Guinea on a train-and-assist mission to defend Spanish interests overseas. The international shipping community has appealed for help from Western powers to provide security assistance off Nigeria, the world's most dangerous waters for maritime piracy.