Video: Smit Salvage Removes the TS Taipei
Royal Boskalis Westminster has released video footage from the 2016 salvage of the container ship TS Taipei off New Taipei City, Taiwan.
The TS Taipei drifted aground on March 10, 2016 after losing power. She settled onto the bottom in the surf zone, and after two weeks of pounding from the waves she began to break up. The wreck eventually separated into two sections.
When she went aground, the Taipei reportedly carried about 70,000 gallons of fuel, plus lube oil and oily wastewater. A combined task force worked to lighter the pollutants and over 100 workers were dispatched to clean the beaches at New Taipei.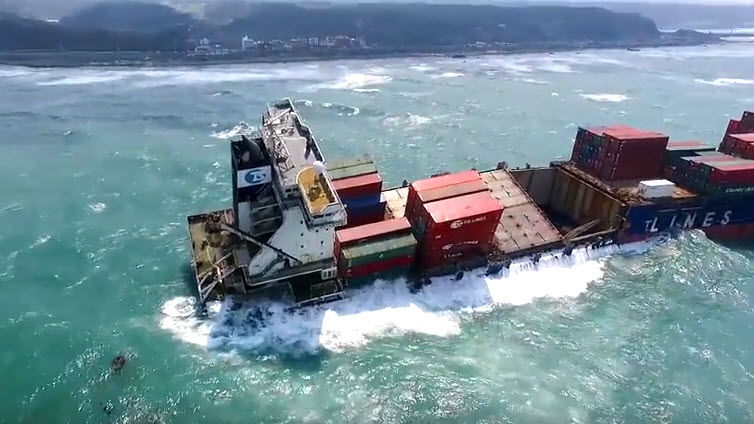 Royal Boskalis subsidiary Smit Salvage was hired for the task of removing the vessel's containers, refloating the wreck and minimizing environmental harm. The company deployed the 1,000-ton-capacity floating sheerlegs Cyclone and the semi-submersible barge Giant 6 to carry out the work.
The sheerlegs first pulled the Taipei's containers and hatch covers, then her deckhouse and main engine. With less weight in the stern section, and with a lift from the sheerlegs, the salvors refloated the stern enough to shift it onto the Giant 6's deck for removal.
Smit refloated the bow by patching holes in the holds and dewatering to increase buoyancy. The repairs were enough to allow the team to tow the bow into port on its own bottom. The vessel's hull was dismantled under Smit's supervision.