Video: Russians Attempt to Pump Fuel from Tanker Grounded in Winter Storm
Russia's Marine Rescue Service is attempting to pump the fuel off a stranded product tanker that is aground off Sakhalin Island and caught in fierce winter storms. The efforts began today, Tuesday, November 14, and they are working to complete it before there is a significant oil leak and environmental situation.
According to the reports, the product tanker Victoria registered in Russia had departed Vladivostok and was transiting the Tatar Strait between the mainland of Russia and Sakhalin Island when the ship experienced problems with its main engine. The captain issued a distress call on November 10 reporting the main engine was not working and the steering control was damaged.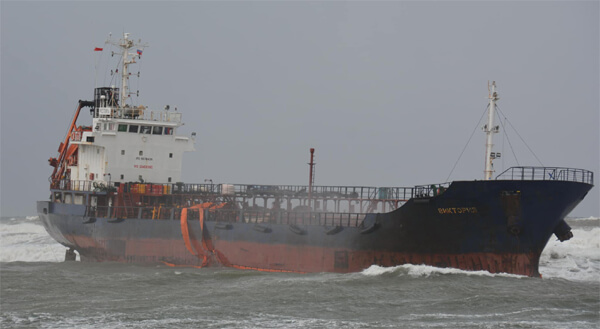 The 2,800 dwt tanker, which is 276 feet long, was driven ashore in the high surf at a position approximately five miles to the south of the port of Nevlsk on the southwestern coast of Sakhalin. The vessel is reportedly stranded approximately 1,300 feet from shore near Cape Lopatino. The captain reported that there were 10 people aboard and that they were not in any immediate danger.
Rescue attempts to reach the vessel were being hampered by a strong storm crossing the area. Waves were reported to be up to 15 feet and strong winds were blowing along with snow and rain. Pictures show the wash going over the deck of the vessel with reports the stern is stuck but the bow is shifting in the surf.
The tanker has 700 tons of diesel aboard as cargo and a further 60 tons of fuel in its tanks. Media reports are that there is no visible oil in the water, but residents are saying there is a strong smell of fuel onshore.
The rescue vessel Otto Schmidt was able to reach the area but could not approach the Victoria due to the high waves. They had been hoping to attach a towline, but reports are that the rescue ship is holding at a distance away from the ship waiting for the seas to calm. The winds were too strong for a helicopter to approach the vessel.
The Marine Service reports they expect it will take approximately two days to pump the fuel from the Victoria to onshore fuel tanks. After that, they hope to attempt to refloat the tanker.