Video: Product Tanker Explodes at Shipyard in Thailand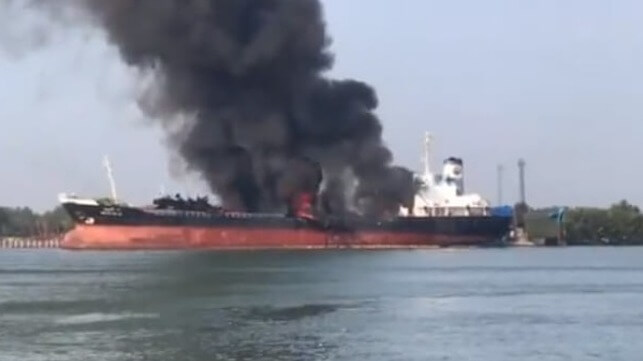 A product tanker undergoing maintenance in Thailand exploded at a local shipyard along the Mae Klong River south of Bangkok. Initial reports are that one or two people were killed, at least four were hospitalized, and as many as seven or eight still missing. Thai officials ordered the shipyards closed saying that they were launching a full investigation into the operations as well as today's tragedy.
The explosion occurred just after 9:00 a.m. local time with reports saying that the first explosion shook the neighborhood and sent sections of the ship flying into the river. It was followed by a second explosion with flames shooting up from the vessel and a large cloud of black smoke.
The vessel, the Smooth Sea 22, is a 6,500 dwt product tanker which had arrived at Port Mae Klong on January 8 after a trip from Bangkok. Reports indicated that the ship, which carries clean cargo, had offloaded and moved to the shipyard for maintenance. The vessel was built in 2018 and is 370 feet long. Reports indicated as many as 16 crew might have been aboard.
During a press briefing, Thai officials confirmed that one body had been found in the wreckage and four hospitalizations. Unconfirmed reports are saying that a second body has also been found and they are continuing to search for the missing individuals who are all believed to be workers at the Ruam Mitr Dockyard Company located near Samut Songhkram, Thailand. As many as 30 people were believed to be working at the shipyards along the river at the time of the blast.
09.15 ?. ??????????????#?????????????????????????
????????????????????????
????????????????????
???????????? ?????
???????????????? ???????
??????????? pic.twitter.com/lJxfFCef3k

— ?????????? ROYAL THAI NAVY (@prroyalthainavy) January 17, 2023
Fire boats rushed to the scene and after about an hour the fire was reported under control. They were continuing to pour water onto the ship with images of smoke still rising from the badly damaged ship. Investigators said they believed the vessel was loaded with 25,000 liters of fuel and 20,000 liters of diesel. So far, there have been no reports of leaks or further pollution in the river.
It is believed that there was welding work aboard the vessel at the time of the blast. Thai officials said they had ordered the shipyards to suspend work and would be checking the licenses and possibly pursuing legal action.
The vessel is reported to be one of six operated domestically by the Smooth Sea Company of Bangkok. Last year, another of the company's vessels, the Smooth Sea 2, also exploded killing one crew member and injuring at least three others at a dock near Bangkok.