Video: Fire at Cargo Terminal in Russian Black Sea Port at Novorossiysk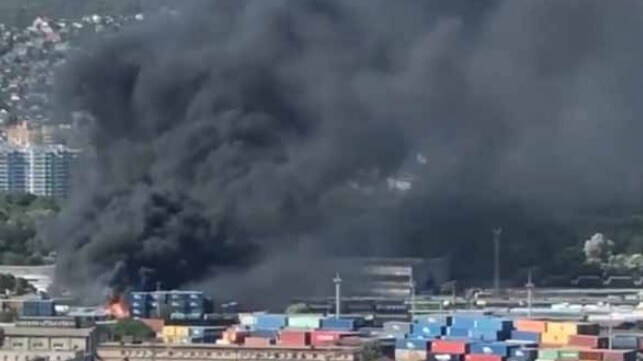 Smoke was seen billowing from the Russian seaport of Novorossiysk on the Black Sea this morning raising fears of a new attack or drone strike possibly targeting the port's oil depot. Russian officials sought to downplay it saying the fire was contained to the cargo yard and brought under control with no injuries.
Novorossiysk is Russia's main port on the Black Sea with a large cargo operation in addition to the oil terminal. The Russian Black Sea fleet also operates from the port.
Two weeks ago, Ukraine staged a successful attack with an unmanned craft that struck and damaged the Russian landing craft Olenegorsky Gornyak while the vessel was anchored in the bay. It was later towed to a berth in the port.
Today's fire was reported shortly after 09:00 local time with pictures on social media showing the large cloud of black smoke spreading across the city. Residents reported hearing explosions coming from the port area.
Russian officials said that 42 firefighters responded with 14 pieces of equipment. The fire was reportedly extinguished shortly after noon.
The official report is that wooden pallets caught fire and that it encompassed approximately 15,000 square feet in the cargo port's yard. The report said the fire spread to barrels containing liquid fuel, which was likely the cause of the explosion. Images released on the social media site Telegram also showed containers with their contents having also been burnt during the fire.