Video: Containership Runs Aground Becoming Tourist Attraction in India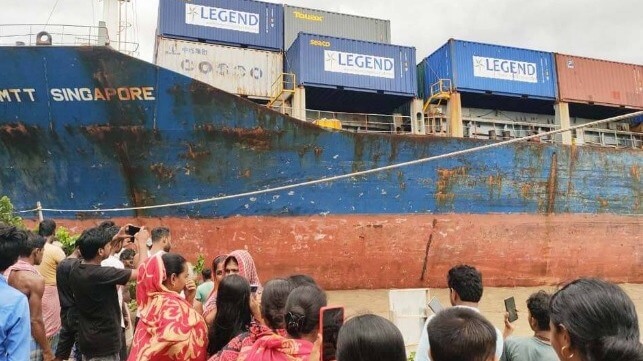 An inbound containership heading toward India's inland port near Kolkata caused excitement as it ran up on the river bank near a local tourist center. The Ministry of Ports, Shipping, and Waterways is reporting that there were no injuries but a lot of people turned out to see the spectacle of the ship stuck in the river mud.
The MTT Singapore is a 10,300 dwt containership operated as part of the regional service from MTT Shipping of Malaysia. The 27-year-old vessel has a capacity of 653 TEU although the ministry is reporting that only 338 containers are currently aboard. The vessel has a crew of 20 from the Philippines and Malaysia and is registered in Malaysia.
The vessel was heading inbound toward the port in eastern India near the border with Bangladesh. It was proceeding along the Hooghly River with a pilot aboard when the ministry reports it experienced a "steering failure."
Some local reports are suggesting that the vessel was attempting to pass another ship on the river or possibly trying to avoid a collision when it veered from side to side before becoming firmly wedged into the river mud.
????Syama Prasad Mookerjee Port, Kolkata authority informed that a container vessel MTT Singapore, Flag Malaysia, Port of Registry-Port Klang ran aground at about 11:25 am today at Pukuria Point near Garchumuk, Howrah due to steering failure.@shipmin_india @SMPort_Kolkata pic.twitter.com/05MOSW9Ahq

— PIB in West Bengal (@PIBKolkata) August 2, 2023
The ministry reports that it ordered the master to ensure the lashing on all the containers so that none of the boxes were lost overboard. No oil spill has been observed and tugs have been dispatched.
They expect to refloat the containership on high tide either Wednesday night or Thursday morning.