Video: CMA CGM Containership "Breaches" Swimming Club's SF Bay Event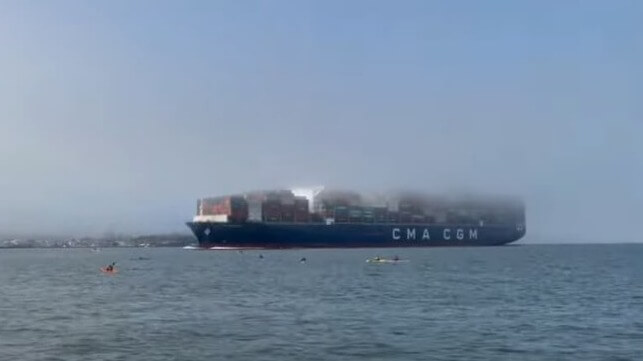 A San Francisco area swim club had a little extra excitement on its seventh and final "Swimming for Alcatraz," event over the weekend when one of CMA CGM's large containerships crossed their course coming very close to the swimmers. The U.S. Coast Guard is reportedly investigating what caused the uncomfortable close incident which was caught on video by TV station KRON.
The event's organizer, Odyssey Open Water Swimming, bills the two-mile swim from Alcatraz Island in San Francisco Bay to the St. Francis Yacht Club in the city as "the ultimate Bay Area open water swim." The group has been organizing events in the area for a decade, reporting on its website "well over 500 successful swims with thousands of swimmers."
The group's registration page shows that 81 people had signed up for the Saturday, November 4 event with participants being told to meet at 6:45 a.m. The swim was due to start one to two hours later and be over by 10:45 a.m.
"Swimming from Alcatraz is one of the most famous, desirable, and enjoyable open water swims (wild swim) in the entire world. Despite lore that swimming from Alcatraz is dangerous, for experienced swimmers with proper support, swimming from Alcatraz can be safe and fun," the group writes on its website.
They reported to KRON that the course had been cleared by the U.S. Coast Guard and they had a permit issued almost a year ago for Saturday's swim, the seventh they conducted this year from Alcatraz.
Looming in the last of the morning fog on the bay, one of CMA CGM's containerships can be seen moving through the bay with the swimmers and their support boats/escorts nearby.
"Our support team, paddlers, and swimmers acted very quickly to react to the unexpected breach to the course," Warren Wallace, a local athlete and swim coach who organized the group told the TV station.
In the video, one swimmer appears to be very close to the bow of the unidentified containership. CMA CGM runs 150,000 dwt vessels with a capacity of over 13,000 TEU in and out of the container port at Oakland, California.
"Large commercial vessels merging into our planned path is not a normal occurrence," Wallace told KRON, "and we are anxiously awaiting information on why this occurred."
The Odyssey group warns on the sign-up page that this event is for "relatively strong swimmers." They report that no one was injured during Saturday's swim and all participants were checked by the team when they reached San Francisco.