[Updated] USS John S. McCain May Have Suffered Steering Failure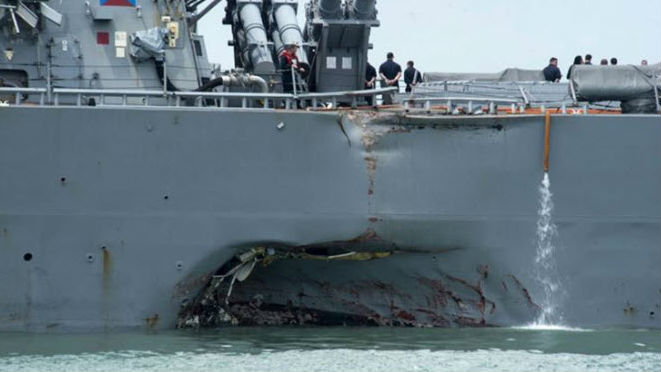 The USS John S. McCain suffered a steering failure as she was beginning her approach into the Strait of Malacca, a U.S. Navy official has told news agency CNN. The destroyer collided with a tanker on Monday.
"The official said it was unclear why the crew couldn't utilize the ship's backup steering systems to maintain control," reports CNN. Steering control was apparently regained after the collision.
The destroyer arrived at Changi Naval Base on Monday afternoon with significant hull damage. The damage resulted in flooding to nearby compartments, including crew berthing, machinery and communications rooms.
Divers have started searching the flooded areas of destroyer for 10 sailors reported missing after the collision. Adm. Scott Swift, commander, Pacific Fleet, said some of the Sailors were discovered on Tuesday by the divers. The Royal Malaysian Navy has also reported the discovery of potential remains of another missing Sailor, located while the ship was providing search and rescue assistance east of the Straits of Malacca and Singapore.
Admiral John Richardson, U.S. Navy Chief of Naval Operations, has called for a global operational pause as well as an operational review and a comprehensive review. The comprehensive review will "examine the process by which we train and certify our forces that are foward-deployed in Japan" including both tactical and navigational proficiency, and it will be in addition to the investigations that look into the details of the collisions.
The review will be headed by Admiral Philip Davidson, and Richardson says its scope will not only span the Navy, but look outside the military as well.
AIS data and video provided by VesselFinder shows the track of the tanker Alnic MC that collided with the USS John S. McCain.
Some defense analysts have warned that longer deployments and less time and money for maintenance and training are a concern for the Navy. The crew of the USS John S. McCain had recently completed over 350 maintenance and repair jobs while at sea, at least 100 of which would usually be conducted at a ship yard. USS John S. McCain's Repair Division conducts an average of 180 hours of preventative maintenance a week.
There have been four incidents involving U.S. Navy vessels in the region this year: the USS Fitzgerald collided with a container ship off the coast of Japan in June, killing seven sailors, USS Lake Champlain hit a South Korean fishing boat in May and the USS Antietam ran aground off the coast of Japan in January.
An opinion piece in China Daily stated that the U.S. Navy was becoming "a hazard in Asian waters" and "a growing risk to commercial shipping."