USS Fitzgerald Commanding Officer in Hospital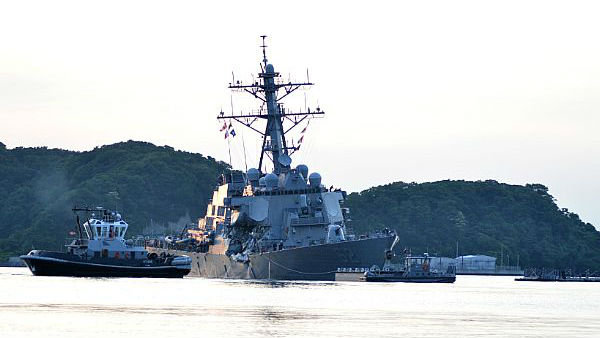 Search and rescue efforts continue in the hopes of finding seven USS Fitzgerald (DDG 62) sailors after the destroyer was involved in a collision. Meanwhile three sailors have required medical evacuation.
USS Fitzgerald collided with the Philippine-flagged merchant vessel ACX Crystal at approximately 2:30 a.m. local time, June 17, while operating about 56 nautical miles southwest of Yokosuka, Japan.
Cmdr. Bryce Benson, Fitzgerald's commanding officer, was transferred to U.S. Naval Hospital Yokosuka by a Japanese Maritime Self-Defense Force (JMSDF) helicopter. All three medevac'd sailors are awake and will remain under observation at the hospital until further notice. Two additional personnel have been medevac'd from Fitzgerald to USNH-Yokosuka by Helicopter Sea Combat Squadron 12 (HSC-12) for lacerations and bruises. Other injured are being assessed aboard the ship.
Names of the missing sailors are being withheld until the families have been notified.
Shortly after the collision the U.S. made a request for support from the Japanese Coast Guard, which first arrived on scene and continues to be lead for finding the seven missing sailors. The Japan Maritime Self Defense Force ships JS Ohnami, JS Hamagiri, and JS Enshu have joined the JCG ships Izanami and Kano and USS Dewey (DDG 105). A U.S. P-8 Poseidon aircraft is working in concert with two JMSDF Helicopters and a JMSDF P-3 Orion aircraft to search the area.
USS Fitzgerald, aided by tug boats, returned to Yokosuka at 6:15 p.m. on Saturday. Once the ship arrived in Yokosuka, divers began inspecting the damage and developing a plan for repairs and inspection of the spaces.