USS Essex Tries Out 3D Metal Printing Under Way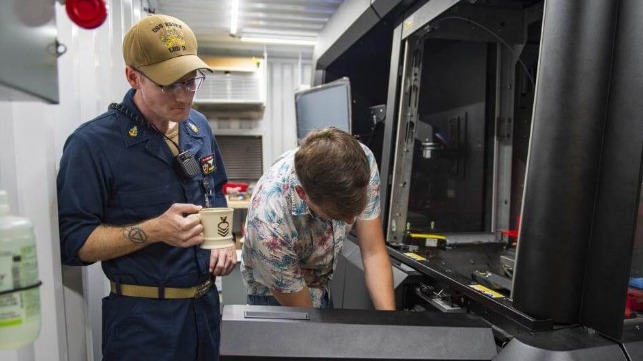 The biennial Rim of the Pacific exercise is always an opportunity to showcase new naval technology, and this year's edition is no exception. The amphib USS Essex is bringing a new capability to the show this year with the installation of a 3D metal printer - a novel capability to have aboard under way.
Multiple military and civilian operators have tested out 3D plastic printing in shipboard service, but the physical properties of plastic can only go so far. The trial aboard Essex is the first run for a Naval Postgraduate School (NPS) project on 3D metal printing on board, and the device they've selected can print aluminum parts up to about 10 inches square.
The machine appears to be a variant of the Xerox ElemX liquid metal printer, potentially the same unit acquired by the Naval Postgraduate School last year. ElemX is unique in its use of solid aluminum wire - not flammable aluminum powder - as a feedstock material, reducing fire risk for an onboard installation.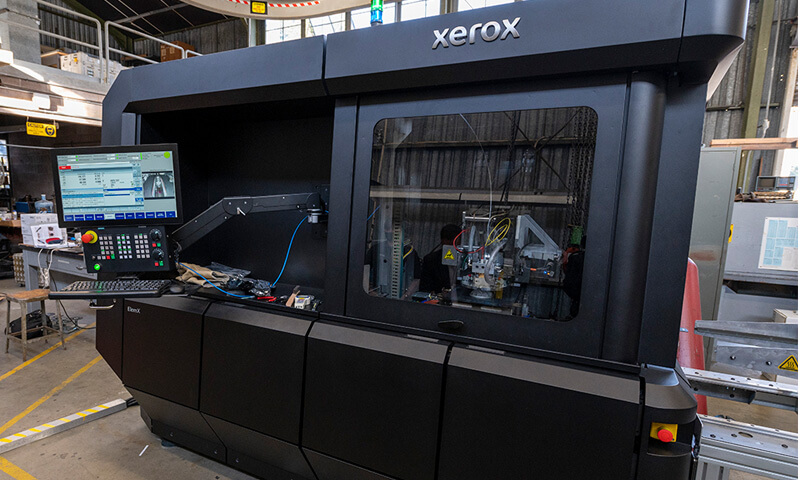 A Xerox ElemX printer at the Naval Postgraduate School, 2021 (USN)
While Essex has a capable machine shop and can already make small parts while under way, the team should be able to use ElemX to print up aluminum components like heat sinks, housings, fuel adapters, valve covers and other small items, saving time and money. During testing and evaluation at sea, a team aboard Essex - including some current crewmembers - will use it to make shipboard parts and send feedback to NPS.
"We have never been able to make something with the precision and intricacy that this new 3D printer will provide," Essex crewmember AT2 Jonah Waage said in a statement.
The NPS study's ultimate objective is to "transform the way the military supplies forward-deployed forces" by shifting to 3D-printed parts instead of the conventional warehousing and distribution architecture (where applicable). If achieved, this would shorten lead times for frontline units and reduce supply chain complexity.
"The military supply chain is among the most complex in the world, and NPS understands first-hand the challenges manufacturers must address," said Xerox Chief Technology Officer Naresh Shanker in a statement last year. "This collaboration will aid NPS in pushing adoption of 3D printing throughout the U.S. Navy, and will provide Xerox valuable information to help deliver supply chain flexibility and resiliency to future customers."
The evaluation of the 3D printer is part of a broader program the Navy is undertaking exploring additive manufacturing which is also exploring the capability of fabricating needed aircraft parts with a 3D printer.
The U.S. Navy has been testing 3D printing for the last few years in a variety of different applications. In 2018, they installed the first prototype 3D-printed metal part aboard the USS Harry S Truman for a one-year test and evaluation trial. By October 2020, U.S. Navy and Naval Sea Systems Command (NAVSEA) reported it had approved a total of 182 3D printable parts in its database and had more than 600 additional parts undergoing engineering review. Those tests were being conducted onshore at fabrication plants with the Navy now looking at the capabilities of extending small part manufacturing to the ships.
The commercial industry has also been exploring the use of 3D printing. Early in 2021, for example, 3D-printed mechanical parts were installed aboard the U.S.-flagged oil tanker Polar Endeavor in a test. After six months in operation, the parts were retrieved and inspected by the vessel's crew, followed by a remote survey by ABS that confirmed their good condition. ABS approved the spare parts after successful onboard testing on the tanker creating the opportunity for wider applications of the technology.