US Navy Donates its Last Two Cyclone-Class Patrol Ships to Philippines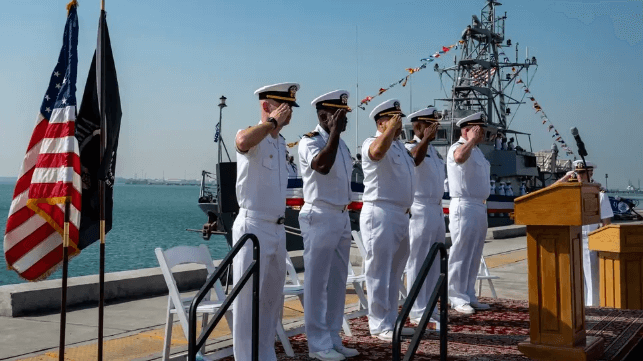 The U.S. Navy has plans to donate its last two Cyclone-class patrol ships to the Philippine Navy, adding to Manila's ability to police its contested waters.
USS Monsoon (PC 4) and USS Chinook (PC 9) were decommissioned Tuesday in a ceremony at U.S. 5th Fleet's base in Bahrain. They were the last of the 10 PC-class patrol vessels permanently stationed in the region. After decommissioning, five others went to the Royal Bahrain Naval Force and three went to the Egyptian Navy.
USS Monsoon and Chinook had 30 years of service in U.S. Coast Guard and Navy operation. In a 2006 career highlight, then-USCGC Monsoon helped secure the arrest of Mexican cartel leader Francisco Arellano Felix off the Baja Peninsula. Both vessels spent the last ten years of their careers in the Persian Gulf, providing security escort services and participating in joint exercises. In a capstone for their time in service, Monsoon and Chinook both participated in a raid that netted 2,000 assault rifles from a dhow in the Gulf of Oman in January.
"I'm proud of our crews for reaching this milestone and representing our nation and Navy with utmost pride and professionalism," said Capt. Anthony Webber, commander of U.S. 5th Fleet's surface force operations. "I'm also proud that we are turning over great ships to our Philippine partners."
The transfer of extra patrol vessels will help the Philippines defend its interests in the Spratly Islands, which are also claimed by China. The government of the Philippines asserts that Chinese forces routinely interfere with Philippine fishermen and with Philippine Coast Guard vessels, including a recent lasing incident at Second Thomas Shoal.
"On a day-to-day basis there are still many . . . cases of harassment or land reclamation which, in many cases, have been depriving the Philippines of the use of our exclusive economic zone," said Foreign Affairs Secretary Enrique Manalo in February.
The Philippine Navy has operated one Cyclone-class patrol vessel, first-in-class USS Cyclone, since its transfer in 2004. Renamed BRP Mariano Alvarez, it has seen service in interdiction operations and in patrol service in Tawi-Tawi, the far-flung island province known best for its history of piracy.