US and UK Warn Merchant Ships to Sail as Far as Possible Away from Iran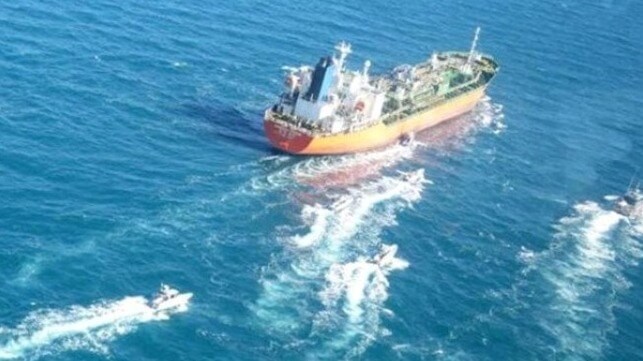 With tensions remaining high after a series of incidents in the Persian Gulf region and specifically the Strait of Hormuz, U.S. and UK authorities both issued warnings as a "precaution" to shipping in the region to avoid Iranian waters and remain on added alert. The advisory came over the weekend, a week after the U.S. completed the deployment of 3,000 additional sailors and marines to the region in an effort, they said, designed to provide additional assurances to merchant shipping.
U.S. officials were circumspect in responding to media inquiries only confirming that ships were being advised to transit as far as possible away from Iran's territorial waters. They declined to say if there was a specific new threat to merchant vessels.
The United Kingdom Maritime Trade Operation (UKNTO) followed up the reports by posting a brief statement on August 12 on its system. "UKMTO have been made aware of an increased threat within the vicinity of Strait of Hormuz," the statement says. "All vessels transiting are advised to exercise caution and report suspicious activity to UKMTO."
Media reports however were citing unnamed sources that had told UK-based security firm Ambrey that an assault on a foreign-flagged ship might come within the next 72 hours. They specifically said the danger is for vessels in the busy shipping lane in the Strait of Hormuz where Iran recently seized two international tankers and harassed at least one or two more vessels. The U.S. and UK responded to previous calls for assistance from ships that said they were being approached by Iranian speedboats. The Iranian forces withdrew while in one case the U.S. reportedly advised the vessel to steer into the waters of Oman and the Iranian boats did not follow.
U.S. officials are believed to be attempting to prevent a confrontation with Iran as they are working to negotiate a release of Americans being held in Iran or a possible prisoner swap. Media reports began to leak news of the potential deal which is thought to be days or weeks from execution with the media reporting Iran has already moved the American from prison to home detention. The reports are that Iran would receive humanitarian assistance with monies released that South Korea has been detaining. Iran in January 2021 seized a South Korean vessel releasing the crew a month later and the vessel after nearly four months with reports Iran was seeking the release of the monies held in South Korean banks.
In recent months, the U.S. has repeatedly highlighted Iran's actions against international shipping as it was reported that regional allies were pressing for the U.S. to do more to provide security. In the spring, both the U.S. and UK said they were increasing patrols, and last week 3,000 American marines and sailors arrived in the region aboard the USS Bataan, an amphibious assault ship, and the USS Carter Hall, a dock landing ship. The Bataan departed Virginia on July 10.
U.S. Naval Forces Central Command in Bahrain said the assault ship can carry more than two dozen rotary-wing and fixed-wing aircraft, including the Osprey and Harrier attack jets. The sailors and marines they said would "provide greater flexibility and maritime capability to U.S. 5th Fleet." The marines from Camp Lejeune, North Carolina are reported to be trained in conducting amphibious missions, critical response, and limited contingency operations.
Media reports at the beginning of August said the Biden administration favored a plan to begin offering marines or sailors to board vessels transiting the Strait of Hormuz. They would provide security but one official said the goal was to provide a deterrent to Iran from harassing additional merchant ships in the region with hopes that there would not be an engagement.