UN Blacklists Libyan Coast Guard Leader for Migrant Smuggling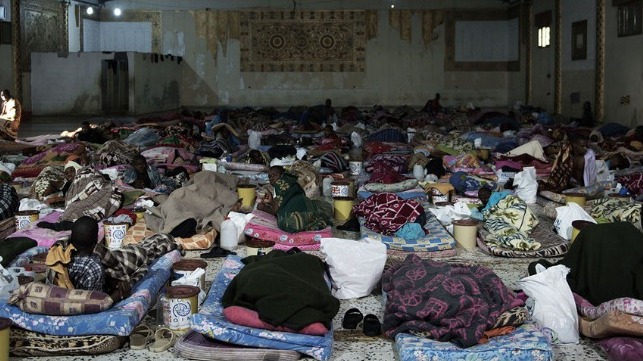 On Thursday, the UN imposed sanctions on six Libyan nationals suspected of involvement in human trafficking, including a top regional leader of the Libyan Coast Guard. Italy and the European Union have provided funding and training assistance to the Libyan Coast Guard in order to combat human trafficking.
The coast guard officer named on the sanctions list is Abd Al Rahman al-Milad, a former militia leader and the current head of the Libyan Coast Guard's unit in Zawiyah. The listing alleges that al-Milad was "directly involved in the sinking of migrant boats using firearms." Al-Milad allegedly collaborates with other migrant smugglers like militia leader Mohammed Kachlaf, who is allegedly providing Al-Milad with protection to carry out trafficking and smuggling of migrants. Kachlaf is also on the sanctions list.
The UN's action was spurred in part by a CNN report that documented a slave market on the outskirts of Tripoli. "We were all horrified by pictures of human beings for sale in Libya last year. I welcome the Security Council's decision to sanction six traffickers and smugglers," said United Nations Secretary-General António Guterres in a statement Thursday. "There must be accountability for exploitation and human rights abuses."
The sanctions include a travel ban and an asset freeze for all six men listed. In addition to al-Milad, the other men who are now subject to Security Council sanctions for human smuggling and human rights abuses in Libya are:
- Mus'ab Abu-Quarin, described by the sanctions committee as "a central actor in human trafficking and migrant smuggling activities."
- Mohammed Kachlaf, the head of the Shuhada al-Wadi militia, which controls an oil refinery in Zawiyah that is allegedly a "central hub of migrant smuggling operations." Kachlaf also allegedly controls the Nasr migrant detention center, which is nominally under the control of the government. The Nasr center is the reception point for migrants captured by al-Milad's coast guard unit, which allegedly focuses its efforts on intercepting rival smugglers' boats.
- Ermias Ghermay, described as "one of the most important sub-Saharan actors in trafficking", who is "leader of a transnational network responsible for trafficking and smuggling tens of thousands of migrants."
- Fitiwi Abdelrazak, who also leads a network responsible for trafficking and smuggling tens of thousands, identified as "one of the top-level actors responsible for the exploitation and abuse of a large number of migrants in Libya." He is also said to have accumulated "immense wealth" through people trafficking.
- Ahmad Oumar al-Dabbashi (known as al-Ammu, "The Uncle), the commander of the Anas al-Dabbashi militia in Zawiyah. al-Dabbashi is allegedly a "significant leader in illicit activities related to the trafficking of migrants." His militia is also accused of maintaining close relationships with terrorist groups.