Ukraine Prepares to Launch Insurance System for Black Sea Shipping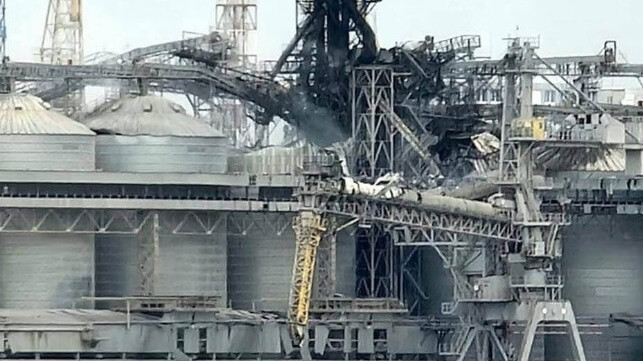 Ukraine is on the verge of setting up its own Black Sea grain agreement, according to a top official - without waiting for Russia's approval.
Oleksandr Hryban, a special adviser to Ukraine's economy minister, told Ukrinform this week that the government is in talks with two major players in the marine insurance market. War risk insurance is one of the biggest hurdles for restarting agricultural exports from the Odesa region, where Ukraine's largest grain terminals are located. A de facto Russian blockade threatens all traffic to Ukraine's seaports on the Black Sea, and Western insurers have suspended cover for voyages on this route. Without insurance, shipowners can't feasibly engage in the trade; without deep-sea shipping, Ukraine's agricultural exporters are selling about 30 percent less wheat, corn and oilseed overseas, potentially reducing GDP by an estimated three percent, according to Bloomberg.
Since agriculture is so important to the Ukrainian economy, Black Sea shipping takes high priority for Ukrainian policymakers, who have been working hard ever since Russia suspended a UN-brokered shipping security agreement in July. According to Oleksandr Hryban, an alternative is nearly ready. The idea is to use Ukraine's Road Fund to set up a reinsurance pool, taking on the role of reinsurers who have departed the nation's market because of excessive war risk. Each dollar of state reinsurance cover can translate into five dollars in insurance coverage, he said.
"We are already, in fact, testing the model of a larger insurance pool. And soon we will see how this guarantee of the government as the guarantor of the last hope works," he said. "The main thing is that there is already a necessary resource - the funds of the Road Fund, which can be used to start insurance."
Importantly, the government of Ukraine is working with the industry's most established insurance brokers and providers - Lloyds and Marsh & McLennan. The marine insurance cover would flow through these firms to shipowners, like usual, except with the Ukrainian government backstopping the risk with its Road Fund. With this mechanism taking shape, Hryban said, the insurance pool should be operating soon. It could cover as many as 30 vessels at a time, according to the Financial Times.
Executives at Marsh and its in-house consultancy branch Oliver Wyman told CNN that the system could be up and running within weeks. One Chinese-owned ship has already transited out of Ukraine by hugging the coastlines of neighboring states, proving that in principle the voyage can be done.
If the hybrid model works with marine insurance, Hryban believes that it could be a test case for insuring foreign direct investment projects during Ukraine's reconstruction: an insurance market led by private insurers, backed by government (or foreign agency) reinsurance providers.