UK Expands Efforts to Support Green Shipping with $100M in New Funding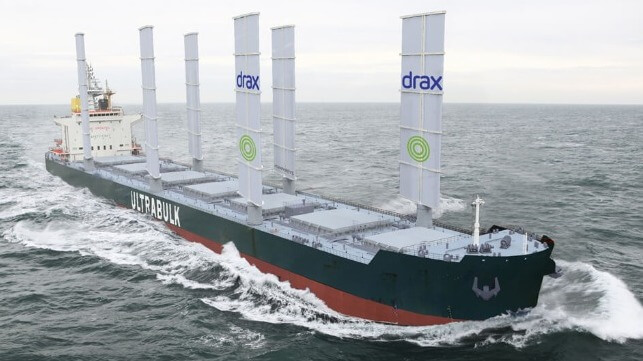 The UK government is investing an additional $100 million in maritime decarbonization including a competition to fund the development and introduction of technologies that can be brought to market within the next three years for the UK's maritime sector. According to the government, it is the largest government effort focused on maritime green tech which is already developed with the goal of moving the tech from "the factory to the sea."
The government is launching a competition with $92.5 million in funding to identify which projects will have a long-term impact on reducing emissions. Successful projects must show they could use the money to work with major UK ports and operators to launch a zero-emission vessel by 2025 at the latest. Examples of technology they are looking to advance include battery electric vessels, shoreside electrical power, ships running on low-carbon fuels like hydrogen or ammonia, and wind-assisted ferries.
"This multi-million-pound investment will help the latest tech ideas become reality and ensure UK waters will play host to green cargo ships, ferries and cruises in the next few years," said Transport Secretary Mark Harper. "Our funding will support a cleaner freight system, a more environmentally friendly tourism industry, and a net-zero maritime sector."
Known as the Zero Emission Vessels and Infrastructure (ZEVI) competition, companies can apply for funding, which must be used to decarbonize technology onboard and shoreside. The competition will be overseen by Innovate UK, the United Kingdom's innovation agency which supports business-led innovation in all sectors, technologies, and UK regions.
The British Ports Association issued a statement hailing the effort noting that it could be used to advance the expansion of shore power for shipping. Mark Simmonds, Director of Policy & External Affairs, at the BPA noted that their research has found that no shore power project anywhere in the world has gone ahead without government funding.
In addition to the competition for funding, the government is also calling on universities across the UK to join forces to establish a new Clean Maritime Research Hub. The research hub will have $8.9 million in funding from the government and additional funding from academia and industry. The hub will focus on research in the fundamental science behind clean maritime technologies seeking to build evidence and expertise for the maritime sector. It will also support skills development across the industry and generate knowledge for maritime decision-makers.
These programs are part of the UK Shore program, launched in March 2022 with approximately $250 million in funding to tackle shipping emissions and advance the UK towards a sustainable shipping future. Across the UK government agencies are seeking to work with private industry to advance the goals.
Scottish Enterprise, Scotland's national economic development agency, reported today that working with MOL Drybulk they have provided an additional $1.6 million in funding to Smart Green Shipping which is developing retrofit sails and technology for sustainable commercial ships. In a project along with its industry partners at Peel Ports Hunterston Port and Resource Centre, the company plans a demonstration of its FastRig wingsail later this year. Smart Green Shipping received an approximately $2.15 million grant from Scottish Enterprise last year towards the research and development project with a total value of approximately $6 million with matching funded by the private sector. The three-year effort is working toward the demonstration of its technology on a MOL Drybulk ship.