U.S. Virgin Islands Boosts Cruise Facilities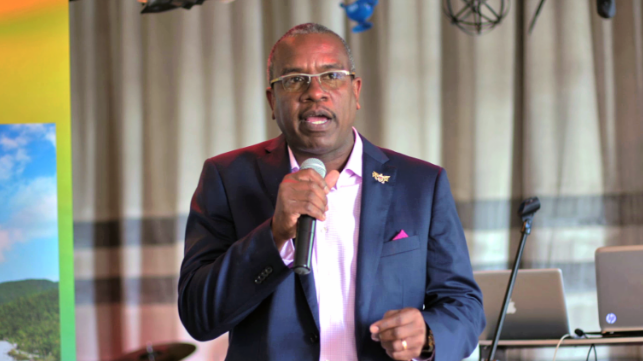 The U.S. Virgin Islands is determined to position itself as the number one tourism destination in the Caribbean by employing robust public-private partnerships, says recently installed U.S. Virgin Islands Governor Albert Bryan, Jr.
Speaking at Seatrade Cruise Global in Miami last week, he said: "As we build this new Virgin Islands product and we recover from two hurricanes, our main push is to make St. Thomas the premier port in the Virgin Islands, to solidify an identity for St. Croix, whether it's in Christiansted with our small cruise ship industry or in Frederiksted with the expansion of our port and what we are doing in the town."

To remain competitive, the U.S. Virgin Islands has embraced public-private partnerships and is looking at creative ways of securing financing, he said. Bryan is also examining the addition of new ports of call to the Territory's harbors. "We cannot do that without the support of the Florida-Caribbean Cruise Association and all our tourism partners, whether they're in aviation or the cruise sector."
The Virgin Islands Port Authority's board of governors is exploring an opportunity to increase cruise visitors to St. Croix by accommodating larger cruise ships at the Ann E. Abramson Marine Facility in Frederiksted. The board has approved a proposal to analyze the feasibility of berthing Quantum class vessels at the Abramson pier. The largest vessels that currently berth at the pier are the Radiance class ships, which have a capacity of up to 2,500 passengers. The Quantum class is the third largest class of cruise ships and each call could bring 4,905 visitors to St. Croix.
The Virgin Islands Port Authority is also progressing with the permanent repairs of its 119 facilities damaged in the hurricanes of September 2017. These include:
• Construction of a new Customs and Border Protection Building, Cruz Bay, St. John, which should be ready for occupancy by September 2019.
• A new office and cargo warehouse is being designed at Wilfred Allick Port and Transsshipment Center, St. Cruoix to replace the Containerport building that was completely damaged in the storms. Construction is expected to begin in the third quarter of 2019.
• A new multi-purpose terminal at the Gallows Bay Port in Christiansted is scheduled for completion by June 2019.
The U.S. Virgin Islands is located in the eastern Caribbean, just 1,100 miles southeast of Miami.