U.S. Retail Imports to Set New Record this Month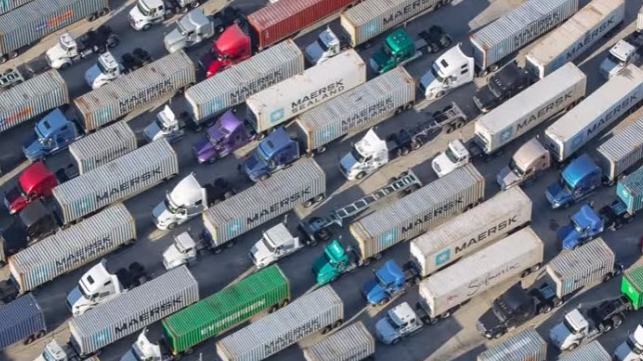 Driven by increasing consumer demand and rising retail sales, imports at the U.S.'s major retail container ports are expected to set a new record this month even though new tariffs on goods from China just took effect, according to the monthly Global Port Tracker report released by the National Retail Federation (NRF) and Hackett Associates.
"Retailers cannot easily or quickly change their global supply chains, so imports from China and elsewhere are expected to continue to grow for the foreseeable future," said NRF Vice President for Supply Chain and Customs Policy Jonathan Gold. "As tariffs begin to hit imported consumer goods or the parts and equipment needed to produce U.S. goods, these hidden taxes will mean higher prices for Americans rather than significant changes to international trade."
"July 6 was the beginning of the United States' trade war," Hackett Associates Founder Ben Hackett said, referring to U.S. tariffs on $34 billion in Chinese products that took effect on Friday. "There will be no winners, only losers – particularly consumers – as costs increase."
Ports covered by Global Port Tracker handled 1.82 million TEUs in May, the latest month for which after-the-fact numbers are available. That was up 11.6 percent from April as the annual wave of summer merchandise began to arrive and up 4.3 percent year-over-year.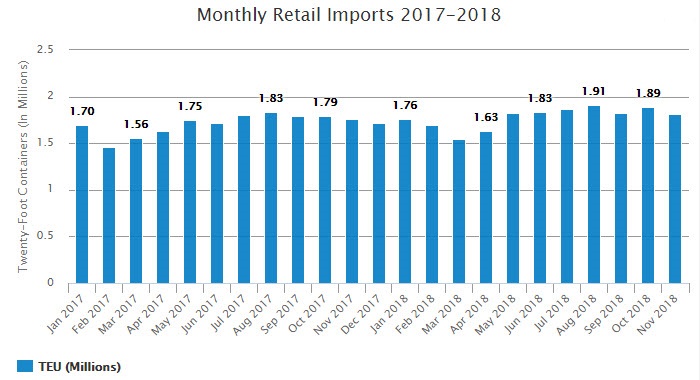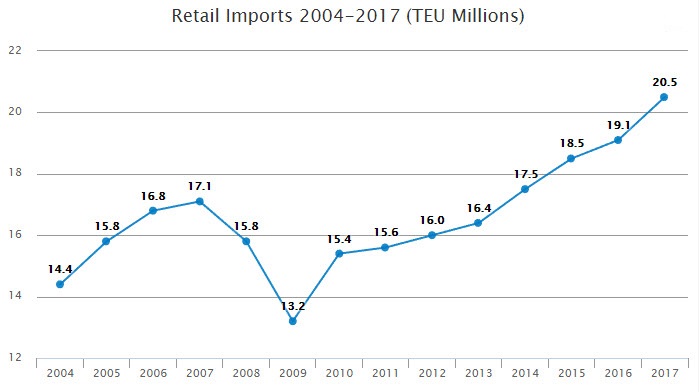 June was estimated at 1.83 million TEUs, up 6.8 percent year-over-year. July is forecast at 1.87 million TEUs, up 3.8 percent; August at 1.91 million TEUs, up 4.2 percent; September at 1.82 million TEUs, up 2.1 percent; October at 1.89 million, up 5.3 percent, and November at 1.81 million TEUs, up 2.6 million TEUs.
The June number tied the record of 1.83 million TEUs imported during a single month set in August 2017, and the forecast for July would break that record while August should set yet another record.
The first half of 2018 is expected to total 10.3 million TEUs, an increase of 4.9 percent over the first half of 2017. The total for 2017 was 20.5 million TEUs, up 7.6 percent from 2016's previous record of 19.1 million TEUs.
While cargo numbers do not correlate directly with sales, the record imports mirror strong results seen by retailers this spring and expectations of continued growth through the remainder of the year.
The Global Port Tracker covers the U.S. ports of Los Angeles/Long Beach, Oakland, Seattle and Tacoma on the West Coast; New York/New Jersey, Port of Virginia, Charleston, Savannah, Port Everglades, Miami and Jacksonville on the East Coast, and Houston on the Gulf Coast.