U.S. Navy Puts Industrial Base First, Fleet Size Second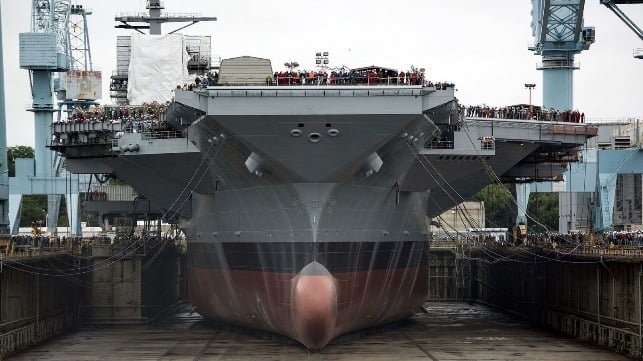 This week, the U.S. Navy released its 30-year shipbuilding plan for Congress, including long-term options for achieving its fleet size target of 355. In a statement, the Office of the Chief of Naval Operations said that the plan serves as a road map to reach this target by the early 2050s, after the period covered. It includes several key changes:
- Building carriers four years apart instead of five to support a 12-ship carrier force.
- Building 12 Columbia-class nuclear ballistic missile submarines.
- Building two nuclear-powered attack submarines per year.
- Acquiring an average of 2.5 destroyers per year, plus an additional ship in 2022.
- Building two small warships (likely the replacement future frigates) per year beginning in 2022.
- Building amphibs more quickly to support a 12-ship amphibious assault force.
When combined with a retirement rate of about eight ships per year, this acquisition pace would result in a 336-ship inventory by 2048, well short of target. The Navy acknowledged that this pace was "unacceptable" in the context of worldwide evolving threats, but it described the plan as realistic, given the fact of unpredictable funding levels from Congress. The Navy intends to set an "enduring industrial base" as its top priority and seek stable, steady acquisition levels rather than a short-term race to a larger fleet.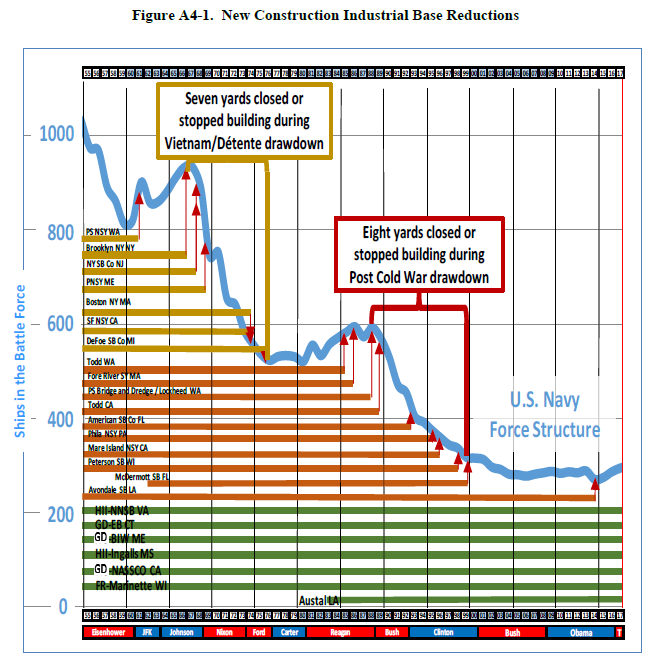 Boom and bust cycles, 1955-2017 (USN)
By building ships at a moderate pace, the Navy says, it intends to avoid a history of "boom and bust" patterns in acquisition. "The significant buildup in the 1950s and 1980s, followed by 'bust' periods of little production, led to significant instability and the loss of portions of our shipbuilding industrial base," the Navy wrote. "The 'boom' periods also eventually led to large-scale block obsolescence as types/classes of ships reached . . . the end of their service lives simultaneously, ultimately driving the need for another 'boom' to recover."
The service is concerned that if it ramps up production quickly, as it has in the past, it will then have to choose between "overshooting" the 355-ship mark or allowing shipyard activity to fall, ushering in a "bust" period. The Navy proposes that an increase to a 330-ship fleet over the plan period would avoid this hard choice and the disruption that would likely follow.