U.S. Navy Names Warship for Famous WWII Officer Cmdr. Ernest Evans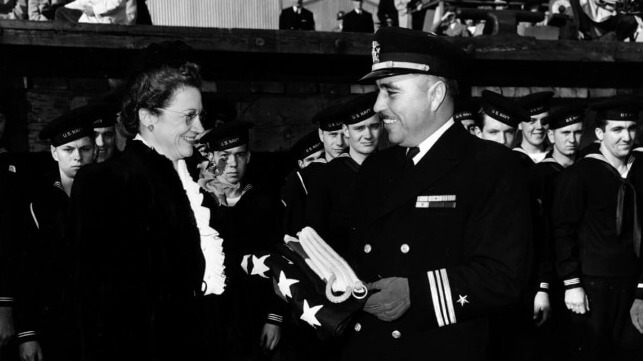 The U.S. Navy has named a new Arleigh Burke-class destroyer for a famous World War II naval officer, Cmrd. Ernest E. Evans, who charged into an attacking Japanese force and sacrificed his ship to save a vulnerable carrier battle group - and thousands of American lives.
Evans was born in 1908 in Pawnee, Oklahoma, and enlisted in 1926. Within one year as an enlisted sailor, he was appointed to the U.S. Naval Academy. He graduated in 1931 and went on to serve aboard eight ships over the interwar period, traveling from San Diego to Florida. When Japanese forces attacked Pearl Harbor on December 7, 1941, he was serving aboard the destroyer USS Alden in the East Indies. Evans served as her commanding officer from 1942-43, when he was ordered to take command of the newly-built USS Johnston.
During the commissioning ceremony for Johnston, Cmdr. Evans reportedly told his crew that "This is going to be a fighting ship. I intend to go in harm's way, and anyone who doesn't want to go along had better get off right now."
In January 1944, Cmdr. Evans and his crew got under way for the island-hopping campaign in the South and Central Pacific, where they supported the capture of Kwajalein, Eniwetok, Guam and Palau. In mid-October, USS Johnston departed for Leyte, escorting six small carriers for the invasion of the Philippines.
At about 0630 on the morning of October 25, they learned that a large Japanese force was approaching. This was the main element of a Japanese fleet that had been mustered to counter the landings, including the cruiser Kumano and the battleships Yamato, Nagato and Haruna.
The American convoy was badly outgunned, and realizing the danger, Cmdr. Evans took the initiative to steer directly for the superior Japanese force. USS Johnston drew fire from the battleships, allowing the American carriers time to retreat and launch fighters. The destroyer closed to within 10,000 yards and launched her torpedos, damaging Kumano and ultimately forcing the cruiser to retire.
The remaining Japanese force fired back, decimating Johnston's topsides, disabling half her propulsion and killing many members of the crew. Despite heavy damage and partial loss of steering, the destroyer stayed in the fight for hours until heavy fire disabled her last engine room. At 0945, dead in the water and under constant bombardment, Evans ordered abandon ship. 141 men out of a crew of 327 survived.
Evans went down with his ship, and he was posthumously awarded the Medal of Honor.
"The first to lay a smoke screen and to open fire as an enemy task force vastly superior in number, firepower and armor rapidly approached, Commander Evans gallantly diverted the powerful blasts of hostile guns from the lightly armed and armored carriers under his protection, launching the first torpedo attack when Johnston came under straddling Japanese shellfire," his citation reads.
American casualties included two escort carriers, two destroyers (including Johnston) one destroyer escort, 23 aircraft and 1,000 lives - but it could have been far worse: the Japanese force broke off the attack, and four American carriers managed to escape.
USS Johnston was discovered on the bottom off Samar in 2019, but her scattered wreckage had none of the appearance of a sunken warship. Whole interior compartments were torn apart and sitting on their own on the seabed, shredded by the intensity of the fight. The research team had to identify the ship by the color of her paint scheme.
"There was no intact hull structure that we could find," said one researcher with survey vessel RV Petrel. "This wreck was completely decimated, it was just debris."
The U.S. Navy named a destroyer escort in honor of Cmdr. Evans in 1955, the Dealey-class USS Evans, but this is the first time that a vessel of the size of an Arleigh Burke-class has carried his name.
Cmdr. Evans was of Cherokee and Creek descent, and in statements Thursday, Navy Secretary Carlos Del Toro emphasized Evans' heritage. Secretary of the Interior Deb Haaland, a member of the Laguna Pueblo tribe, noted his service as an example of the role of Native Americans in the armed forces.
"Today, we honor Commander Ernest Evans for his courage and ultimate sacrifice," said Secretary Haaland. "As we honor Commander Evans with this stunning vessel, we also honor the service of Indigenous servicemembers nationwide, past and present."