U.S. Navy Budget: Fewer Ships, Newer Ships, More Maintenance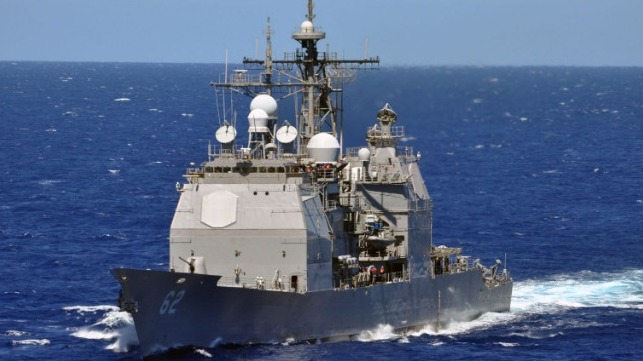 The U.S. Navy's proposed FY2020 budget includes a $10 billion top line increase, but a reduction in projected fleet size. Rather than more ships, the service intends to prioritize more modern ships, retiring the carrier USS Truman two decades early and skipping the planned service life extension for the Ticonderoga-class cruisers. Under the budget proposal, in five years the service will have 314 hulls - about a dozen fewer than previously expected.
The Navy said that like the rest of DoD, it wishes to invest in new systems - like the future Large USV, a 2,000-ton unmanned vessel. In addition, it proposes a $20 billion R&D program, up by 10 percent over FY19, with new investments in weapons, hypersonics, jamming, unmanned systems, lasers, digital warfare, applied artificial intelligence and analytics.
It also seeks to accelerate its shipbuilding program. The shipbuilding component of the FY2020 request comes to nearly $35 billion, and it is the largest in two decades. It includes:
- $2.2 billion for the new Columbia-class Ballistic Missile Submarine
- $2.6 billion towards the Ford-class carrier program
- $10.2 billion for three Virginia-class attack submarines
- $5.8 billion for three Arleigh Burke-class destroyers
- $1.3 billion for the first new FFG(X) frigate
- $1.1 billion for two Fleet Replenishment Oilers
- $200 million for two salvage tugs
- $450 million for two large unmanned surface vehicles (USVs)
Notably, the FY2020 request does not include funding for further Independence- or Freedom-class Littoral Combat Ships (LCS), in line with previous announcements. The Navy is conducting a competition for a more conventionally-designed frigate (the FFG(X)), and it intends to phase out further LCS construction. However, Congress will have final say over whether the Navy will stop purchasing Littoral Combat Ships: last year, appropriators ordered three LCS vessels instead of the single, final hull that the Navy had requested.
Focus on operations
Despite the announcement's emphasis on new technology, the more prosaic Operations and Maintenance category would receive the largest boost - up by $5.6 billion, an increase larger than that for all the Navy's other budget categories combined. This includes significant new funds for for depot maintenance and ship operations, two areas that the Navy highlighted for improvement after the USS Fitzgerald and USS John S. McCain disasters. In ship maintenance, the budget also includes $700 million to fix submarines at private shipyards - a major priority given the longstanding backlog - and major investments to fix the Navy's own public shipyards.
The Navy is also prioritizing manning, with plans to add about 13,500 sailors by FY2024. To keep government service competitive with civilian wages, it also proposes to raise pay by about three percent.