U.S.-Flag Fleet Faces Higher Costs, Fewer Cargoes
The U.S. Government Accountability Office has released a new report on the challenges facing the U.S.-flag deep sea fleet, including rising operating costs and a declining number of qualified American mariners. GAO urged the Department of Transportation to formalize a national maritime strategy to respond to these challenges, as requested by Congress in 2014.
Rising costs
Costs are rising for U.S.-flag operators, according to DOT's Maritime Administration. MARAD officials told GAO that the difference in opex between a U.S.-flag ship and a foreign-flag ship has risen from $4.5 million per year in 2009 to as much as $6.5 million per year today. For 60 ships, this additional expense is offset by the Maritime Security Program (MSP), which provides an annual subsidy of $5 million to enrolled U.S.-flag vessels. The MSP appropriation has risen by 40 percent in recent years, helping to stabilize the financial situation of participating operators, but MARAD expects that rising opex will be a continuing challenge.
MSP offers significant advantages for the federal government, according to MARAD and DOT. It is a low-cost way to procure U.S.-flag tonnage and to keep a young fleet, as the program is limited to vessels of less than 25 years of age. GAO found that over the last twelve years, operators have replaced 70 participating vessels, usually with newer and more capable equipment. These vessels are typically foreign-built, widening the pool of options to include new and used ships from around the world.
In addition, program participants - like the U.S. division of leading ocean carrier Maersk - are required to provide the U.S. military with access to their full transportation network, including terminals and intermodal facilities worldwide. The cost of replicating these benefits with an owned fleet and owned infrastructure would exceed $60 billion, according to one estimate.
Cargo preference shipments in decline
Since MSP does not cover all of the additional cost of reflagging and operating a vessel under the United States registry, operators rely upon federal cargoes to make up the remaining gap, multiple firms told GAO. Commercial cargo alone does not have high enough rates to maintain the financial viability of U.S.-flag vessels, these operators said, since they have to compete for this business with foreign flag ships.
Under cargo preference requirements, government-financed cargoes must be shipped aboard U.S.-flag commercial vessels, even if the cost is higher than comparable foreign-flag vessels (with exceptions). GAO found that 1.4 million tonnes of government cargo were shipped on MSP vessels in FY2016, but this number has been falling. Military cargoes are down by half relative to 2004 levels, and food aid cargoes have fallen by two-thirds (below).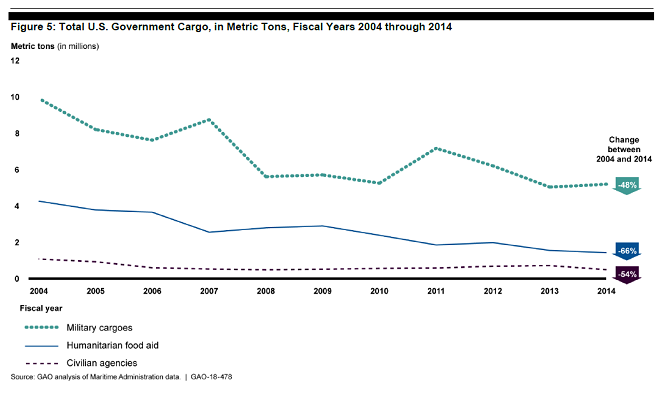 One operator told GAO that they flagged out five of their vessels because federal cargo volumes are no longer high enough to support the additional expense of remaining in the U.S.-flag fleet. MARAD warned that a continued decline may lead to further reductions in the number of U.S.-flag vessels, and could affect the financial viability of vessels in the MSP.
Additionally, GAO pointed to a potential shortage of civilian mariners in the event of an activation of the reserve fleet and a long-running sealift operation. A MARAD working group recently estimated a shortfall of over 1,800 mariners in the case of a drawn-out military effort, though it acknowledged that there are questions about the count accuracy for the number of available seafarers.
National maritime strategy
GAO noted that in 2014, Congress asked the Department of Transportation and MARAD to develop a cohesive national maritime strategy, including measures to make the U.S. flag fleet more competitive and to sustain the merchant marine. While the previous administration created a draft strategy, DOT has not yet formalized a plan, and it declined to give GAO a timeline for delivering a final product.
However, MARAD is evaluating ways to achieve Congress' intent, GAO noted. MARAD officials told the office that they are examining a variety of ways to bolster the fleet and the merchant marine, including means to reduce the compliance cost of flagging-in a foreign vessel; removing the steep penalty for making repairs to a U.S.-flag ship at a foreign shipyard; mandating additional cargo preference requirements; further increasing the MSP subsidy; or paying for mariner training in exchange for a promise to serve in a national emergency. However, MARAD and DOT officials said that they are not yet ready to propose actions to address any of these issues.