U.S. Approves Revolution Wind to Become Fourth Large, Offshore Wind Farm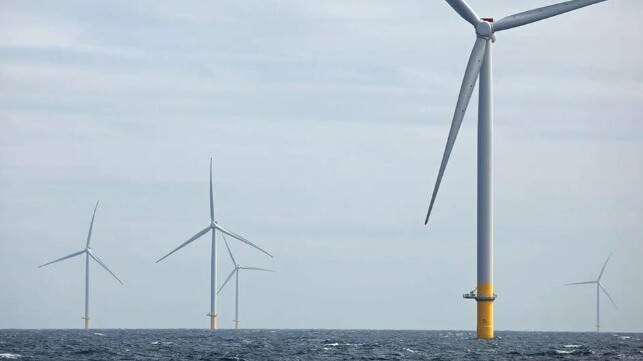 The Department of the Interior today announced its approval of the Revolution Wind offshore wind farm project which will provide energy to both Connecticut and Massachusetts. This is the Department's fourth approval of a commercial-scale, offshore wind energy project as the U.S. offshore wind energy industry continues to gain momentum.
Located about 15 nautical miles southeast of Rhode Island and about 12 nautical miles from the coast of Martha's Vineyard, Revolution Wind will have an estimated capacity of 704 megawatts of energy, capable of powering nearly 250,000 homes. The project will split its power providing about 400 MW to Rhode Island and the remaining 304 MW to Connecticut. In the final form approved by the Bureau of Ocean Energy Management, the project will consist of 65 wind turbines and two offshore substations.
The project is being developed in a partnership between Ørsted and Eversource. The companies acknowledged the milestone for the project saying they remain on track to begin onshore construction activities in the coming weeks. Offshore construction is scheduled to ramp up in 2024 with the project expected to be operational in 2025.
"Companies have quadrupled their U.S. offshore wind investments to over $20 billion, representing thousands of good-paying union jobs," said Assistant to the President and National Climate Advisor Ali Zaidi, highlighting the release of BOEM's record of decision as the next major step in the industry. "Today's approval of a fourth major offshore wind project is our latest permitting milestone that will help strengthen America's energy security, make our power grid more reliable, lower energy costs, and cut dangerous climate pollution."
Construction on the first two large offshore wind farms is already underway in Massachusetts and New York. Avangrid which is leading the development of Vineyard Wind 1 which will be near Revolution Wind highlights that the first nacelles and wind turbine blades have now arrived at the staging facility in Massachusetts. The first two projects, Vineyard and South Fork, are targeting completion before the end of the year and BOEM previously also approved the Ocean Wind 1 project offshore New Jersey.
BOEM highlights that the review process for Revolution Wind included considering the final Environmental Impact Statement alternatives, including public comments received. The Department approved Revolution Wind's Construction and Operations Plan (COP) under its preferred Alternative G identified and analyzed in the EIS. This preferred alternative will meet energy needs by installing fewer wind turbines than originally proposed by the developer to reduce impacts to visual resources, benthic habitat, and ocean co-users. Alternative G includes up to 79 possible locations for the installation of 65 wind turbines and two offshore substations within the lease area. The Record of Decision is published on BOEM's website.
The Record of Decision includes measures aimed at avoiding, minimizing, and mitigating the potential impacts that may result from the construction and operation of the project. Among them, Revolution Wind has committed to establishing fishery mitigation funds to compensate losses directly arising from the project incurred by recreational and commercial fisheries in Rhode Island and Massachusetts, and to creating a direct compensation program to reimburse lost revenues for fisheries from other states. Additionally, Revolution Wind has committed to measures such as vessel speed restrictions and construction clearance zones to reduce the potential for impacts to protected species, such as marine mammals, sea turtles, and Atlantic sturgeon.
"Together with industry, labor, and partners from coast to coast, we are building an entirely new industry off the east and west and Gulf coasts," said Interior Secretary Deb Haaland.
The Biden administration highlights that companies have announced 18 offshore wind shipbuilding projects as well as investments of nearly $3.5 billion across 12 manufacturing facilities and 13 ports to strengthen the American offshore wind supply chain. Ørsted and Eversource, for example, have committed to more than $100 million of direct investment to the State Pier redevelopment project in the Port of New London, Connecticut to create a marine terminal that is being used for staging and assembly. They have already also ordered five crew transfer vessels that will be built by Blount Boats and Senesco Marine both in Rhode Island.
BOEM reports it remains on track to complete reviews of at least 16 offshore wind project plans by 2025, representing more than 27 gigawatts of energy.