U.N. Ambassador Issues Urgent Call for Action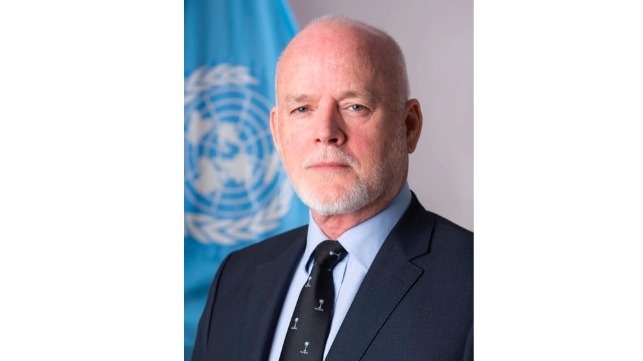 Peter Thomson, the United Nations Special Envoy for the Oceans, has used the first Opening Oceans Conference (OOC) in Copenhagen to highlight the desperate plight of the oceans and the need for a sustained, universal push from the maritime industry to help halt, and hopefully reverse, their decline.
Speaking to an audience of over 300 executives from the shipping and ocean industries, Thomson highlighted issues such as widespread plastic pollution, ocean acidification, deoxygenation, warming and sea level rise, noting their "dire consequences for the future of many marine and terrestrial species, including humankind."
He stressed: "The ocean's decline is an existential threat to us all. Think only of the fact that every second breath we take comes from the oxygen created by phytoplankton and other marine plants. And yet we allow the decline to continue."
The Ambassador railed against "short-sighted naysayers" within industry and the international community and stressed that a joined-up approach was imperative to realign global production and consumption to create a more sustainable system. As an architect of the U.N.'s Sustainable Development Goal 14 (SDG14 – Life Below Water) he said adhering to it, and the wider SDGs and Paris Agreement, is "demanded by us all.
"Getting the balance right between protection and production is the ultimate scale upon which the Sustainable Blue Economy rests. Get it wrong and we will kill the goose that lays the golden egg. Get it right, and we will have given our children the future we want, the one they have every right to expect."
Thomson was, however, optimistic that change was possible, noting "human problems contain within them human solutions."
He applauded OOC organizers Nor-Shipping and key supporters the Norwegian Shipowners' Association and Danish Shipping for acting to enable sustainable ocean development, the theme of the conference, while urging the shipping industry to play its part in reversing a damaging tide.
The greening of the maritime sector – through greater use of renewable energy, improved designs and optimization, and potentially fixing sensors to hulls to "enhance global data collection systems to deliver the scientific evidence we need to progress" – could have transformative impacts, he said.
"Green shipping and the Sustainable Blue Economy are vital to SDG14's success… the international community looks to the shipping industry, and of course to IMO, to diligently contribute to that good future we want - a cleaner, greener future in which our relationship with our mother, the ocean, is restored to a righteous balance between protection and production."
Thomson was one of over 50 guest speakers addressing an international audience of c-level executives, governmental and NGO representatives, and other key ocean stakeholders at OOC, Nor-Shipping's first event outside its Norwegian home. Nor-Shipping 2019, Your Arena for Ocean Solutions, takes place in Oslo and Lillestrøm, Norway, from June 4-7, 2019.