Two Uruguayan Dockers Dead in Confined Space Accident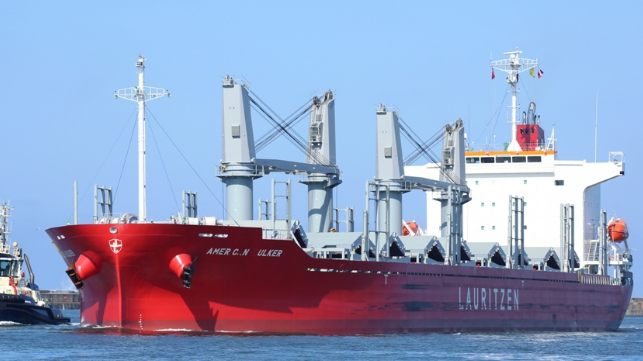 Two dockers died early Tuesday morning while unloading logs from the hold of a bulker in Montevideo, and two others have been hospitalized. The victims are believed to have been exposed to a fumigant, and the authorities are investigating to determine the cause.
"It is known that it was a poisoning accident, but it is not known which product produced this intoxication," said a spokesman for the Uruguayan Navy, Capt. Marcelo Etchevers, speaking to local media.
According to investigators, two Uruguayan dockers from an independent stevedoring company entered one of the four holds of the Panama-flagged freighter American Bulker at about 0600 on Tuesday morning. They lost consciousness and collapsed.
One of the bulker's crewmembers saw the victims in distress and entered the hold wearing a face mask. During the course of the attempted rescue, he reportedly removed his mask, and he also lost consciousness. The crewmember has been hospitalized and is in an induced coma. A third stevedore is also receiving medical care.
The president of an Uruguayan transport union, Cesar Bernal, told Telemundo that the stevedores did not know that half of the ship's cargo of timber had been treated with a fumigant. The victims entered the hold as they normally would and succumbed. Workers believe that the treatment product was likely phosphine, a broad-spectrum fumigation gas used to control pests in agricultural and wood product cargoes. It is denser than air, and may settle and collect in low-lying pockets.
The fatal accident is the latest example of casualties resulting from improper confined-space entry on board a merchant vessel. The last occurred on Friday, when three crewmembers of the timber carrier Apollo Kita died of asphyxiation while working in one of the vessel's holds. Timber cargoes are known to absorb oxygen over time, creating the potential for dangerous deoxygenated holds.
Over the years, confined space accidents have proven stubbornly resistant to harm reduction efforts, both on shore and on land. On average, about 90 workers per year lose their lives in confined space accidents in the United States alone. These incidents are especially lethal for workers who respond to the initial casualty: According to the U.S. National Institute for Occupational Safety and Health (NIOSH), about 60 percent of confined-space fatalities in shoreside incidents are responders, and when multiple deaths occur during a rescue, the majority of the victims are "would-be" rescuers.