Two Chinese Bulker Crews Rescued During Cyclone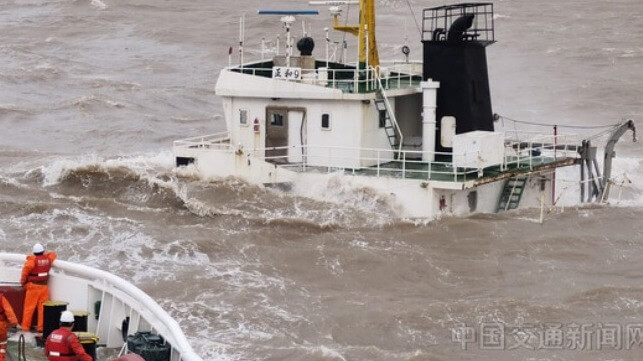 China's Ministry of Transport released details on two rescues performed within hours of each other as bulk carriers found themselves caught in an approaching cyclone in Jiangsu Province just north of Shanghai. According to the report, battling high seas, they were able to safely remove a total of 25 crewmembers before two vessels were lost in the storm.
Early on the morning of August 28, the cargo ship Zheng He 9 reported that it was taking on water into its cargo hold and then the engine room due to the raging storm. Winds were being clocked at Force 9 (above 40 knots) with gusts to as much as 60 knots. Sea conditions were reported between 10 and 15 feet.
The vessel was loaded with 5,000 tons of iron ore and in the anchorage in Haizhou Bay. The captain had gathered the crew on the bridge and ordered them into lifejackets to prepare to evacuate. However, the report said the seas were too high to safely launch the vessel's lifeboat.
The rescue boat Donghai Rescue 112 was able to reach the ship but due to the high sea conditions was not able to get alongside. They called in a rescue helicopter from the East China Sea Rescue Bureau and it was able despite the high winds to airlift the crew members to safety.
Hua Hai 601 later rolled and sank in the storm (China MOT)
Later the same day, another vessel the 6,250 dwt general cargo ship Hua Hai 601 reported that it had taken on a severe list. The vessel was loaded with 6,000 tons of nickel ore. The vessel reported it had a crew of 15 aboard and was requesting assistance.
The northerly wind made it difficult, but after several attempts, the rescue boat was able to come alongside the cargo ship. The crew was removed from the rear deck. Two hours later the Hua Hai 601 rolled over and sank.
One of the rescue boats has remained in the area to monitor for navigation hazards.