Tuesday: NTSB Meeting to Determine Cause of El Faro Sinking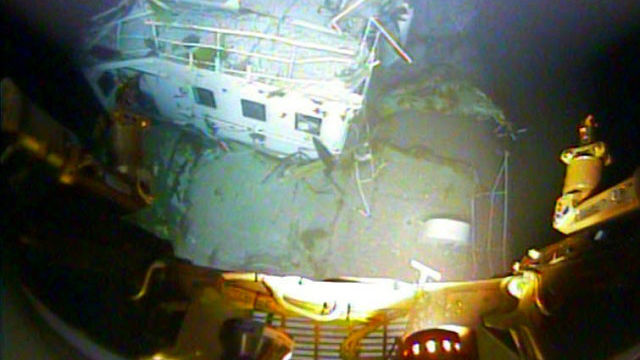 The NTSB is scheduled to meet on December 12 to determine the probable cause of the October 1, 2015, sinking of the U.S. flagged cargo ship El Faro.
The 790-foot vessel set sail from Jacksonville, Florida, on a voyage to San Juan, Puerto Rico, on September 29, 2015 and sank about 34 hours later near the eye of Hurricane Joaquin. All 33 crewmembers on board the ship perished in the accident.
The NTSB launched an investigation as soon as the sinking was confirmed and with assistance from the U.S. Navy and U.S. Coast Guard, the wreckage and debris field was located on October 31, 2015, more than 15,000 feet under the surface of the sea.
Investigators focused on recovering the voyage data recorder (VDR) from the wreckage, which contained more than 26 hours of audio recorded from the El Faro's navigation bridge. The VDR was not located during the first voyage to find the El Faro's wreckage. The VDR was located during the second mission in April 2016, which was supported by the National Science Foundation. However, the VDR was not recovered until the third mission in August 2016, which was supported by the U.S. Navy. The 500-page VDR transcript was placed in the El Faro accident docket, where it is among more than 16,000 pages of factual reports, interview transcripts and related documents.
The investigation, that to date has cost $5.6 million and amassed 30,500 hours of investigative work, has produced more than 70 findings and more than 50 proposed recommendations, which will be presented to the board during the meeting.
The major safety issues associated with the accident include:
• The Captain's actions
• Currency of weather information
• Bridge team management
• Company oversight
• Damage control plans
• Survival craft suitability

The sheer volume of information that needs to be reviewed during the board meeting has necessitated modifications to the flow of the meeting. Unlike other board meetings where the managing director reads all the findings and recommendations following investigative staff presentations, during the El Faro board meeting the investigative staff will present their findings and recommendations during their presentations. Probable cause will still be read by the managing director.
In October this year, the Coast Guard Marine Board of Investigation (MBI) released its final report into the sinking of the El Faro. The 200-page document outlines the timeline of the vessel's final voyage, outlines the causal factors behind her loss and gives recommendations for preventing future casualties. The Board found that the El Faro's operator, TOTE, did not ensure the safety of marine operations for the vessel and did not identify the risks posed by Hurricane Joaquin before her final voyage. The MBI also found that the El Faro's master was partly responsible for the tragedy, and alleged that he "failed to carry out his responsibilities and duties as Captain of the vessel."
The report also addresses broader concerns of compliance and maintenance standards. Based on the inspection records of the El Faro and her sister ship, the El Yunque, the Board expanded the scope of its inquiry to cover the Alternate Compliance Program (ACP), under which six class societies are authorized to inspect commercial vessels on behalf of the Coast Guard. The Board found a pattern of deficiencies among a subset of ACP vessels, and it asserted that a "seminal change in the overall management and execution of the [ACP] is urgently needed to ensure safe conditions are sustained on the enrolled U.S. commercial vessels."