Tropical Storm Challenges USCG Rescue of 12 From Grounded Cargo Ship
A small, inter-island cargo ship grounded Wednesday morning near St. Thomas in the U.S. Virgin Islands. Storm tossed seas from tropical storm Philippe, which was passing to the north of the island, made for a challenging rescue for the U.S. Coast Guard.
"This vessel grounding was a very close call and I commend our watchstanders and responding boat crew for their efforts rendering assistance to the people who were aboard the Bonnie G and bringing them to safe harbor," said Capt. José E. Díaz, commander of Coast Guard Sector San Juan. He noted that the Coast Guard's focus is now on pollution control and investigating the circumstances of the incident.
The Bonnie G is a 42-year-old former offshore supply ship that is now operating as a Ro-Ro carrying cargo between the islands including San Juan, the British Virgin Islands, and the U.S. Virgin Islands. The vessel is 186 feet in length and 120 dwt.
The AIS signal shows the vessel departed from Christiansted, St. Croix on Tuesday. The USCG reports that there were 12 people aboard and that the vessel was carrying six cars, a truck, a trailer, and two pallets of cargo when it grounded south of the airport in St. Thomas.
Coast Guard watchstanders in San Juan received a VHF marine radio communication from the Bonnie G at 3:41 a.m., Wednesday, reporting the vessel was taking on water in the engine room. They reported that the people onboard were abandoning ship onto two life rafts and a lifeboat.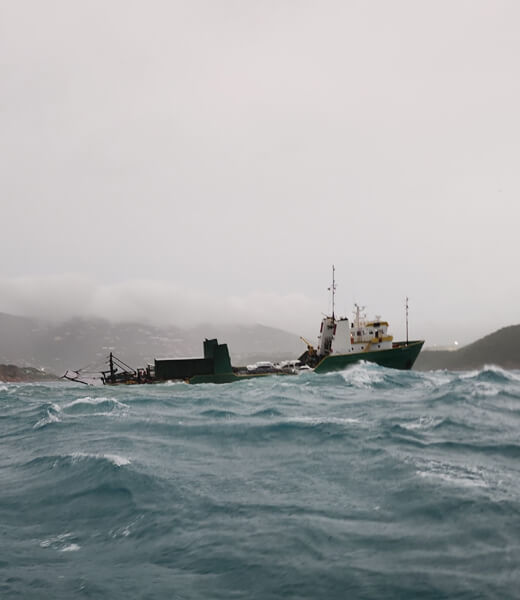 Bonnie G is aground south of the St. Thomas Airport in seas running up to 9 feet (USCG photo)
Tropical storm Philippe passed north of the area on Tuesday with wind speeds between 45 and 50 mph and producing heavy rainfall. Weather reports today from St. Thomas indicate winds at 28 knots with the National Weather Service reporting seas 5 to 7 feet with occasional seas up to 9 feet and a small craft advisory in effect through tonight.
Coast Guard watchstanders in Sector San Juan alerted vessel traffic in the area after receiving the distress call and notified the USCG in St. Thomas which dispatched its 33-foot Special Purpose Craft to provide rescue assistance. Once on scene, the Coast Guard boat crew was able to embark all 12 of the survivors and transported them to Crown Bay Marina on St. Thomas.
The concern now is over potential pollution from the grounded ship with the USCG reporting that the Bonnie G has approximately 13,000 gallons of fuel and approximately 250 gallons of lube oil onboard. They are coordinating with the vessel owner and local authorities to remove the pollution threat as quickly and safely as possible.